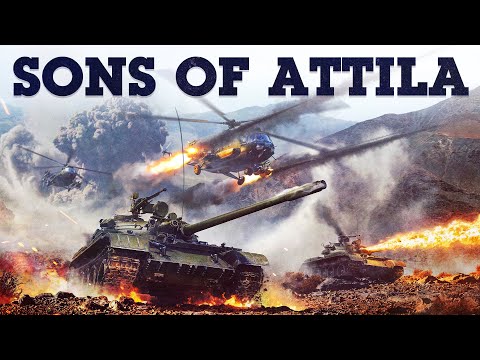 Welcome to Sons of Attila!
A vast amount of vehicles, fixes and anticipated Roadmap additions have now been implemented! Flagship jets: F-16C Block 50, Barak II and MiG-29SMT, plus jets for other nations. Italy has gained the Hungarian branch, which includes 11 ground vehicles starting from the Csaba and ending at the KF41, as well as 3 helicopters. The first South Korean vehicle, the VIDAR — which arrives as an export variant used by Norway — also comes to the Swedish tree! The visual effects of wind, smoke and ammo detonations plus more have also been improved, as well as a rank VI Bluewater and 3 premium Battleships have arrived. Two new maps, including the return of "Test Site — 2271", are also here.
Better yet, there's a ton of content waiting for you. Read below to find out more.
Implemented features from the Roadmap
Several Roadmap additions that you have been patiently waiting for have been implemented. You can see details about these changes in our separate news article here.
Aircraft: Flagship jets and some cockpit makeovers!
A handful of aircraft have arrived! Additions range from the top of the line jets like the F-16C Block 50, Barak II and MiG-29SMT for the US, Israel and USSR, to the interesting He 115 C-1 flying boat for Germany. For Britain, a handy Sea Harrier comes to the research tree as well as brand new cockpits for 3 Spitfire variants. Italy has received the welcomed AV-8B Plus, France the speedy Super Etendard, and Sweden the Röd Adam premium aircraft, plus the T 2. There's certainly plenty of aircraft to choose from, the list is below.
USSR
France
Loire 130 (Ship-based aircraft)
Great Britain
Sea Harrier FRS.1 (e)
Sea Harrier FRS.1 (Cockpit updated)
Spitfire Mk1, Mk2 and Mk5 (Cockpits updated)
Sweden
A32A Röd Adam (Premium)
T 2
Israel
Ground vehicles: The Hungarian ground branch!
23 interesting vehicles arrive! Britain's top tier capability has expanded with the addition of the Bhishma as a squadron vehicle, and USSR has received the TO-55 premium flamethrower capable tank. Italy has gained the Hungarian ground forces branch, starting from the Csaba and ending up at the capable KF41, which is the icing on the cake that tops off this line, and China the MBT-2000. France gets the ATGM-capable AMX-10M, and Sweden gets a new premium, the VIDAR, which features a 155mm gun, capable of wreaking absolute havoc in matches. The full list of ground vehicles is below.
K9 VIDAR Pack
The Kit Includes:
K9 VIDAR (Sweden, Rank V)
2000 Golden Eagles
Premium account for 15 days
USA
USSR
Great Britain
France
Germany
China
Israel
Sweden
Japan
Italy
Hungary tree:
Turan I
Zrinyi II
Turan III
ZSU-57-2
ZSU-23-4
2S1
BTR-80A
T-72M1
Leopard 2A4
Helicopters: The Hungarian helicopter branch!
A new branch and overall 7 helicopter additions come to the game! The formidable OH-58D attack helicopter for US and China and the Mi-8TB and TV for Germany and USSR respectively. Italy gets 3 Hungarian Mi-24 variants, including the premium Mi-24P which will certainly help complement the Hungarian ground forces lineup in the Italian tree. Moreover, we've created a bunch of new unique sounds for several helicopters.
Naval vehicles: Rank VI Bluewater, and premium Battleships!
Bluewater research trees are expanding — to rank VI! With this, the new USS Texas and alongside this, rank V premium Battleships: USS Arkansas, SMS Nassau, and Marat! Ever wanted to play with beautiful big ships? Now's your chance. Japan has also received some slight changes to the reserve ship in Bluewater, the new IJN Momi. The full list is below.
USS Texas (BB-35)
Marat Pack
The Kit Includes:
Marat battleship (USSR, Rank V)
3000 Golden Eagles
Premium account for 30 days
Arkansas Pack
The Kit Includes:
USS Arkansas (BB-33) (USA, Rank V)
3000 Golden Eagles
Premium account for 30 days
Germany
SMS Nassau (Premium)
Drache
Japan
IJN Momi
(Reserve)
PT-808
USSR
Italy
New mechanics and stunning visual effects!
We've been working hard on improving the graphic effects in War Thunder! In this update, you'll be able to see the following improvements while in battle: new trees and wind effects, shots and explosions, destroyable ammo, aircraft voice warning systems (say hello to Bitchin' Betty!), updated RWR and a realistic HUD for helicopters. All of these changes will help to enhance the visuals and overall feeling of the game in all areas of battle.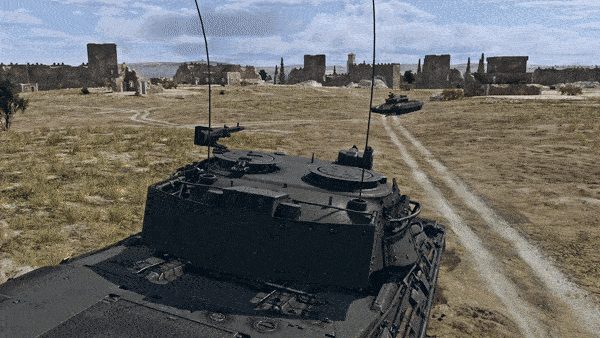 New locations: A map for aircraft and ground battles!
We worked on an aircraft map that was to be located in Southeast Asia. Rocky Pillars comes to the game, and we can't wait to see how aircraft combat will play amongst the large, well, rocky pillars. For ground battles, we've made some improvements to Test Site — 2271, which now returns to the map rotation after its initial release in the Atomic Heart event. This map has been improved based on your feedback — thank you and enjoy!
There's much more…
Alongside the usual additions of vehicles, mechanics and bug fixes, we've got some other misc features. Vehicle photographs on stat cards now shine in a clear and uniform manner, allowing you to better see what a vehicle looks like. Useful information has been added to each vehicle's modification window — this includes information about tier bonuses, and a useful bar to see the progress of how much modification RP is needed as a number and a percentage. Oh yeah, we've also adjusted a ton of vehicle sounds.
Download the update and join the battle!