THE R-77 'ADDER'
HISTORY :
First seen in 1992 at the Moscow Airshow (MAKS) 1992, the R-77 was immediately nicknamed Amraamski by Western journalists. The basic R-77 is known as the
izdeliye
170, while the export variant is known as the
izdeliye
190 or RVV-AE. Unlike previous missiles used by the Soviet Union, this one was primarily produced or used by modern day Russia. As such, there is limited history on the development and use of the weapon.
DESIGN :
A closer look at the RVV-AE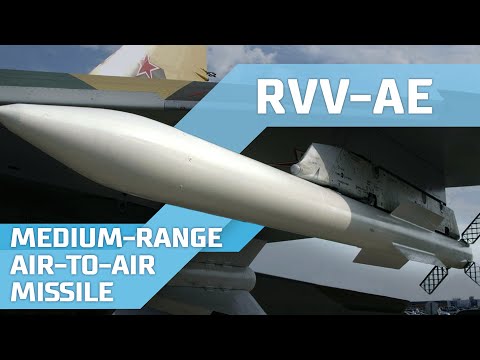 PERFORMANCE :
Karpenko's chart as seen in bastion magazine, 2003.
R-77 (RVV-AE)
Spoiler

[2] Launch Mass: 177kg
[10] Mass at end of burn: 118kg
[2] Caliber: 200mm
[2] Length: 3.6m
[?] Thrust: 22854.96 - 30473.28 (Newtons)
[10] Burn Time: 4.5 - 6s
[?] Explosive Mass: ??
[?] Proximity Range: ??
[2] Guidance: ARH+IOG+DL
[?] Guidance Duration: 120s? (video of R-77-1)
[?] Lock-on range from all-aspect: ??
[?] Maximum Overload: 40G?
[?] Maximum Speed: Mach 4.5?
[?] Maximum fin angle of attack: 40 degrees?
[2] Maximum range: Up to 80km* (possibly 100km)
DISCUSSION :
We're looking for any potential real information (primary sources, multiple credible secondary sources).
Please refrain from posting anything restricted or otherwise not permissible for public distribution.
Let's discuss and discover what we can about this missile. It is not long until it sees its' way into the game. It is already in the files as hidden loadouts (albeit, missing a real file or model). Gaijin has admitted that fox-3s are coming soon.
Sources:
Spoiler

[1] Russian missile weapons 1943 - 1993 (cover) (page)
A.V. Karpenko, 1993

[3] Bastion magazine 2003 (cover) (page)

[4] AA-12 (Federation of American Scientists)

[6] Vayu Aerospace and Defence Review

[7] Eurasian times

[8] KTRV RVV-AE

[9] Russia military modernization (The International Institute for Strategic Studies)

[10] CAT UXO

[11] Comparison of the dynamics of the R-24, R-27 and AIM-7 missiles (Cover page for source)

[12] Scramble

[13] Naukatehnika