[Would you like to see this in-game?]
Mitsubishi F-2B ADTW «63-8102» - Better than Reagan´s and JASDFs R2-D2 !
Hi and welcome to my 16th suggestion, which is about a bit special Mitsubishi F-2B and one of a few modern Japanese aircraft I want to suggest, hope you like it.
First of all:
This is a suggestion for an Aircraft we could see in game at some point in the Future , that doesn´t mean next Patch or somewhere in the near Future
I don´t want to force Gaijin to rush Top-tier air in any way
Feel free to share more Information and / or correct me if something is wrong
Discuss respectfully, any aggressive kind or verbal abuse will be reported, the Forum rules also apply here
Background History
The origins of the FS-X can be traced back to the early 1980s and the top secret Laboratory Three division of Japan's Technical Research and Development Institute (TRDI). Studies were conducted there to examine the options for an indigenous design that would combine long range with maneuverability to meet the unique needs of the Japan Air Self-Defense Forces (JASDF). It became clear that striving for a fully indigenous design was unrealistic and help had to be sought abroad. In October 1987, the Japanese government announced that it would be developing a derivative version of the F-16C Block 40, known as the FS-X, to replace the JASDF's Mitsubishi F-1 support fighters, which were to be phased out of active service in the second half of the 1990s. Launched in November 1988 with the signing of a memorandum of understanding between the governments of Japan and the United States, the program was the first joint fighter aircraft development program between Japan and the United States. The fighter was intended to be used exclusively by the Japan Air Self Defense Force (JASDF) and as such development was fully funded by Japan.
An important element in the F-2's specification was its ability to carry four anti-ship (e.g. ASM-1 / ASM-2) or medium-to-long missiles (e.g. AIM-7M). This requirement dictated the need for increased wing area and other modifications. Although the F-2 is used for interception like other types of fighters in JASDF, its main role is seen as destroying enemy landing forces or enemy warships using anti-ship missiles.
The FS-X (Fighter Support Experimental) is being developed by Mitsubishi Heavy Industries as prime contractor with Lockheed Martin Tactical Aircraft Systems, Kawasaki Heavy Industries and Fuji Heavy Industries as prime subcontractors. Development work was split roughly 60/40, with the Japanese partners responsible for the larger share. The first of four FS-X flight test aircraft rolled out of Mitsubishi Heavy Industries Komaki South Plant in Japan on January 12th, 1995 and completed its maiden flight on October 7th, 1995. at Mitsubishi's test facilities in Nagoya. The Japanese Congress approved the production program in mid-1996. The Japanese government plans to purchase a total of 130 F-2 aircraft, despite previous significant questions in Japan about military needs and budgets and rumors that the number would be reduced to 70. Production deliveries of the F-2 will begin in 1999 and continue through 2011. In 2008, the Japanese government decided to cut production after building the 94th airframe.
The Mitsubishi F-2B ADTW Overall
The Mitsubishi F-2 is a 4.5th generation multirole support fighter built by Mitsubishi Heavy Industries and Lockheed-Martin, derived from the F-16. There is no official nickname, fans and officials call it "Heisei Zero Fighter (平成の零戦)" or "Viper Zero (バイパーゼロ)". At first glance, one can see only a few differences to the F-16, but in detail these are greater than one might assume. First, almost the entire airframe was adjusted; the wings are longer, wider and slightly pulled in the direction of flight which offers a total of 25% additional wing area, the nose is longer and wider to accommodate the new domestic AESA radars (J/APG-1 / -2), the tailplane, air intake has also been enlarged, the cockpit has received a multi-piece canopy with greater stability. Some parts of the electronics also differ from the F-16 in various ways, such as having its own flight control system and software. Less notable but worth noting, the F-2 has a drogue chute unlike most F-16s we have ingame and future blocks. The F-2B itself is the two-seat trainer version of the F-2A. It does have less internal fuel, but it can carry the same armament as the F-2A and, as a "combat trainer", is also fully combat-capable. Unfortunately unlike its single-seat sibling, the F-2B has no ECM antennas.
Armament of the F-2B ADTW
Thanks to the larger and structurally reinforced wings, more payload can be attached to each of the wings. Four medium- or long-range rockets and four additional short-/medium-range IR missiles can be mounted at the same time including one to three additional fuel tanks. But there is also no lack of air-to-surface armament; up to , four ASM-1 / ASM-2 and two (X)ASM-3 anti-ship missiles, eight JDAM as well as eight laser guided L-JDAM, four GSC-1 anti-ship and up to twelve 500Ib Mk.82 bombs. The main armament is an internal M61A2 with a total of 512 rounds.
Additionally, the F-2B ADTW '63-8102' is the only F-2B being able to use the AN/AAQ-33 SNIPER targeting pod, alongside the late service F-2A.
Air-to-Air Missiles
4x AIM-9L
4x AAM-3
4x AAM-5A /B
4x AIM-7M
4x AAM-4A / B
Guided- / Dumb-Bombs & Rockets
8x GBU-38
8x GBU-54
4x GSC-1
4x CBU-87
12x 500Ib Mk.82
38x Hydra-70
Air-to-Surface Missiles
4x ASM-1
4x ASM-2
2x (X)ASM-3
Specifications, Electronics and Internal
Crew: 1 Human and R2-D2 ; )
Length: 15,52 m
Wingspan: 11,13 m
Wing area: 34,84 m2
Empty weight: 9.633 kg
Loaded weight: 13.459 kg
Max. takeoff weight: 22.100 kg
Powerplant: 1x General Electric F110-IHI-129

Dry thrust: 76 kN
Thrust with afterburner: 131 kN

Maximum speed:

Mach 1,1 at sea level
Mach 2,0 at altitude

Service ceiling: 18.000 m
Wing loading:
Thrust/weight:
Maximum g-load: +12g / -3g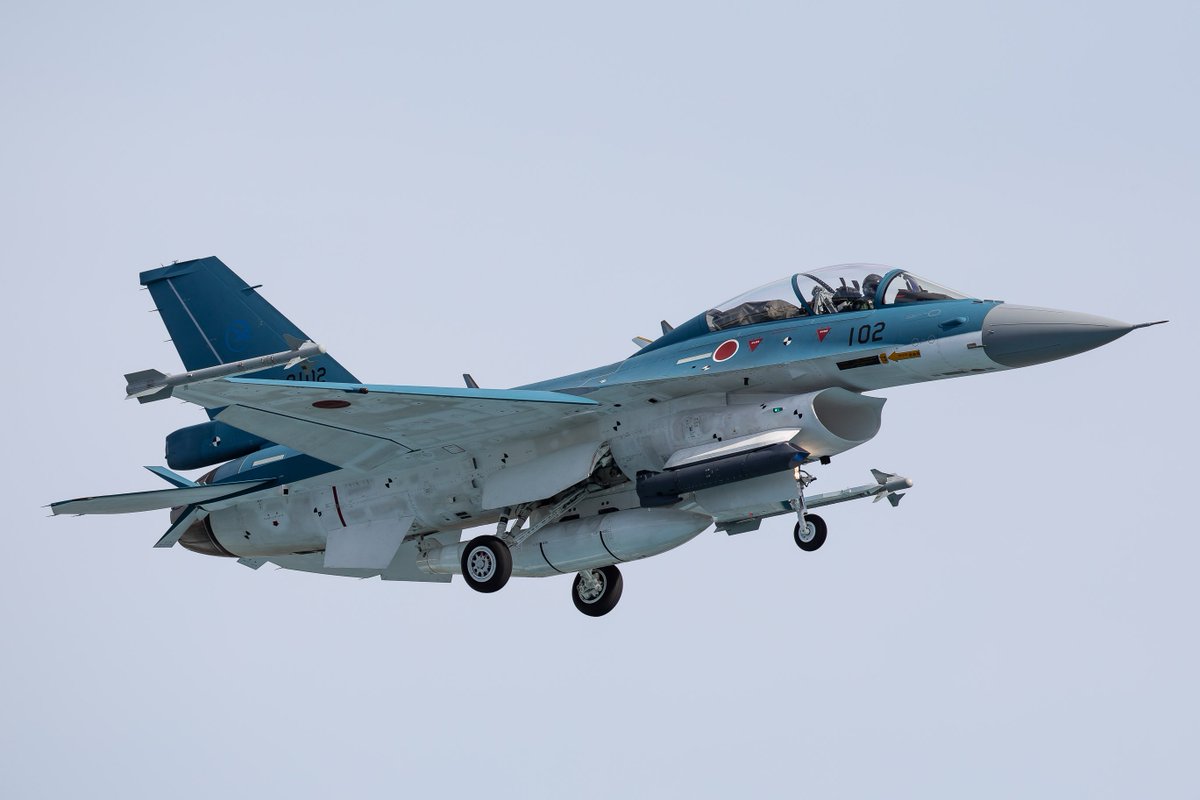 Thanks for your time, hope you liked it

[Will add more if there are some (more) important / declassified things]
[PM or comment if a Link or Picture isn´t working]
Sources:
Links

https://www.mod.go.jp/asdf/equipment/sentouki/F-2/index.html

Under the leftbase: 2019.5/29 RJNG

空自のF-2戦闘機、スナイパーATP搭載8機種目に | FlyTeam ニュース

Japan's F-2 Support Fighter | Code One Magazine

Japan Lockheed Martin F-2 Fighter

F-16.net - The ultimate F-16, F-35 and F-22 reference

Mitsubishi AAM-5 | Weaponsystems.net
Aerospaceweb.org | Aircraft Museum - F-2 / FS-X

Mitsubishi F-2 | Thai Military and Asian Region

Mitsubishi F-2 "Viper Zero": Japan's Fighter Derived From The F-16 - The Aviationist

https://www.mod.go.jp/atla/en/soubi_system.html

https://aerocorner.com/aircraft/mitsubishi-f-2 /

Overview — J/APG-2 — Airborne Radars — Sensors/Electronics — Weapons — Military Periscope
Books / Other:
日本が生んだ傑作戦闘機F-2 - Eiwa Mook (2021)
Military Aircraft of the World 航空自衛隊F-2 - JWings Magazine (2020)
航空自衛隊F-2 - Eiwa Mook (2015)
航空自衛隊F-2 - Eiwa Mook (2010)
Troubled Partnership: A History of U.S.-Japan Collaboration on the FS-X Fighter - Mark Lorell (1995)
Lockheed-Martin F-16 - Greg Goebel (1st Edition / 2018)
Modern Fighter Aircraft - An Illustrated History of War Planes from 1945 to the Present Day - Francis Crosby (2004)
Jane´s All the World´s Aircraft 2000 - 2001
Jane´s All the World´s Aircraft 2007 - 2008