The F16C and F16D have more hardpoints than we have in game. The setup should allow for:
Up to 10 missiles + 3 fuel pods + targeting + eccm system on a single loadout.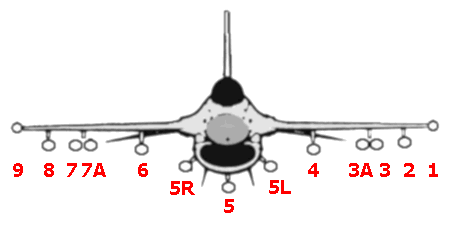 Here is an unclassified image showing that the pylon is capable of carrying up to 10 missiles using the triple rail system. As you can see you can carry 5 missiles per wing. This could be a combination but in this image they have 4 Aim-120s and 1 Aim-9 per wing.
Here is an image showing that even with the targeting pod, you still have a centerline fuel tank:
Here is and F16C Block 40 with the extra fuel pod and triple launcher:
Here is a block 15 F16 with the double and triple launcher and extra fuel pods. Keep in mind this is a Block 15 so everything after that including that should have it:
Here is another F16C in this image you can see the 4 hard points on each wing, plus the extra hardpoints for mounting equipment on the body:
Here is another image: