Convair F-106A Delta Dart (1972 Refit): The American Dorito…
[🇺🇸]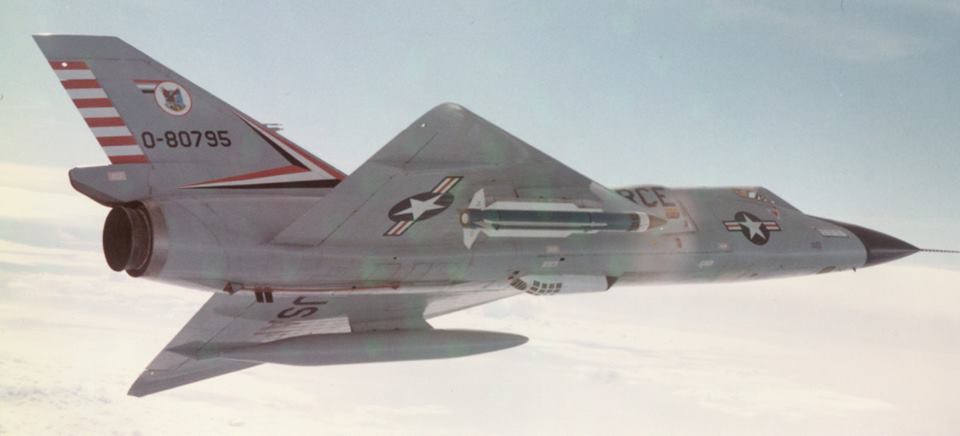 (Polls are at the bottom)
---
Overview

Hello again everyone! Today I want to suggest a interesting American aircraft, using a Delta-Wing design, The Convair F-106A Delta Dart.
---
Basic Information

Designation:

F-106A (Military)

F-102B (Manufacturer)

Name:

"Delta Dart" (Official)

"The Six" (Nickname)

Role:

Crew:

Manufacturer:

Convair Aerospace Company

Total built:

342 Aircraft

2 Prototypes

277 F-106As

63 F-106Bs

First Flight:

Introduced:

Retired:

August 1988 (US Air National Guard)

1988 (NASA)
---
Specifications

Dimensions:

Length: 70 ft 8 in (21.55 m)

Wingspan: 38 ft 3 in (11.67 m)

Wing Area: 695 sq ft (65 m²)

Height: 20 ft 3 in (6.18 m)

Flying Performance:

Engine(s):

1x Pratt & Whitney J75-P-17 afterburning turbojet

16,100 lbf (72 kN) standard thrust

24,500 lbf (109 kN) with afterburner

Max Speed:

1,525 mph (2,454 km/h, Mach 2.3) at 40,000 ft (12,192 m)

Service Ceiling:

Rate of Climb:

Max Range:

580 mi (930 km) Standard*

2,700 mi (4,345 km) With External Fuel*

Aircraft Weight:

24,420 lb (11,077 kg) Empty

34,510 lb (15,653 kg) Max

Armament:

Main Gun:

1x 20 mm M61A1 Vulcan 6-barreled rotary cannon

4,500 RPM

650 Rounds

Internal Bay (Possible Loadouts):

4x AIM-4F Super Falcon Air-to-Air Guided Missiles

4x AIM-4G Super Falcon Air-to-Air Guided Missiles

2x AIM-4G & 2x AIM-4F Super Falcon Air-to-Air Guided Missiles

Additional Equipment:

IRST:

Radar:

Flares

Chaff:
---
Usage in Battles

The F-106 would work remarkably well as a dogfighter, reported to be able of going toe-to-toe with more advanced aircraft like F-4 Phantom II. It would be although limited in armament as it can only carry 4 Missiles and only carries 650 rounds. Boom and Zoom tactics are your best option in this aircraft, and taking advantage of its max speed and manueverability to get out of situations.

Pros:

Fantastic Speed and Acceleration

Great Maneuverability

Can Carry 4x AIM-4 Super Falcons

Cons:

Small Ammo Count

Large Target

Can only carry AIM-4s
---
History

The F-106 was to the pinnacle of the 1954 All-Weather Interceptor Program. Originally supposed to be a variant of its predecessor, the F-102 Delta Dagger, with a new engine and redesigned airframe/engine intakes, however once completed, it had differed from the F-102 so much that it was redesignated as a separate aircraft, the F-106 Delta Dart.

Being part of the "Century Series" of aircraft, the F-106 was noted by its advanced avionics and fantastic speeds and manueverability. The F-106 began flight testing on December 26, 1956, seeing successful trials, however its improvements were seen as not substantial enough for mass-production, thus the USAF only ordered 350 of the original 1000+ planned.

The F-106 served in the USAF as its new main Interceptor aircraft, replacing aging airframes such as the F-86 and F-89. Originally only capable of equipping AIM-4 Falcon missiles and AIM-2 Genie rockets, the Delta Dart was limited in its capabilities, arriving in a time where it was believed that gunfighting was obsolete and impractical.

The F-106 would serve quietly in the USAF, seeing no combat action, though it had preformed numerous intercept and escort missions against soviet bombers. It had nearly seen action in the Vietnam War, however its inability to carry bombs and the disappointing effectiveness of AIM-4s led to otherwise.

A experiment began comparing the capabilities of the F-106 and the newer F-4 Phantom II led to the conclusion that the F-106 had the capability to be a fantastic dogfighter, thus in 1972, "Project Six-Shooter" began, equipping F-106s with 20mm M61 internal guns, alongside other upgrades.

The F-106 would continue to serve for a total of 29 years in USAF, eventually being phased out in 1988 and replaced as the interceptor role became obsolete by more capable aircraft such as the legendary F-15.

The F-106 would continue to see service by NASA as a testbed and experimental airframe, however would also be phased out in 1988.

As of today, there are currently 31 surviving examples.
---
Additional Photos
---
Technical Drawings & Data
---
Sources
---
Extra Note

This Post is the start of a series of aircraft suggestions, characterized by their use of early-era first-gen Air-to-Air Missiles not yet seen in game (AIM-4, FireFlash, K-5, etc.)
---
[Would you like to see this in-game?]
[How would you like to see this in-game?]
Tech Tree
Premium
Event
Battle Pass
Squadron
I Said No
[What BR would you like to see this in-game?]
8.0
8.3
8.7
9.0
9.3
9.7
Other (Please Explain)
Again, No