[Would you like to see this in-game?]
SAI Ambrosini 207
It was a low-wing light fighter produced during the Second World War (built in Italy by SAI Ambrosini), it was built with completely wooden materials with retractable undercarriage.
It was an evolution of the previous SAI 107, a pity that the only prototype was destroyed during an accident.
As improvements it had a 750 HP (552 kW) Isotta Fraschini Delta RC.40 engine, this gave it the possibility of reaching 625 km/h horizontally and 930 km/h diving, as armament two Breda -Safat 12.7 mm in the engine fuselage, synchronized with the propeller. Too bad the increased weight in the engine made the aircraft less manageable and reduced the rate of climb.
However, the aircraft turned out to be exceptional, both because it could be made with non-strategic materials, and because it could be created by low-skilled personnel, not to mention the cost, for each Macchi 205, another 5 SAI 207 could be created.
The Italian government ordered a total of 2000 specimens, however only 12 were delivered from serial numbers MM.8425 to 8436, during the period of March and July in 1943.

Aircraft structure
It was made entirely of ash and walnut wood, with a plywood covering covered with canvas and painted, the cockpit was single-seater, with the fuel deposits placed behind the pilot, the fuel tanks were made of externally semapped duraluminium.
The wing was made up of 5 spars and false ribs, the undercarriage was retractable inwards with a special accommodation, while the tail wheel was not retractable, but could steer.
The propeller was a three-bladed metal type.

General characteristics
•First flight date autumn 1940
▪ Length: 8.02 m
▪ Wingspan: 9.00 m
▪ Height: 2.40 m
▪ Empty weight: 1750 kg
▪ Fully loaded weight: 2415 kg

Propulsion:
▪
Engine and Power:
Isotta Fraschini Delta RC.40 Air-cooled inverted V12 [750 hp (560 kW)]
Performance:
▪
Max speed:
625 km/h
▪
Cruising speed:
504 km/h
▪
Autonomy:
850 km
▪
Maximum odds:
12000
Armament:
▪
Weapons:
2x Breda Safat 12.7mm machine guns
Photos, drawings and more:
Aircraft engine:

Sources: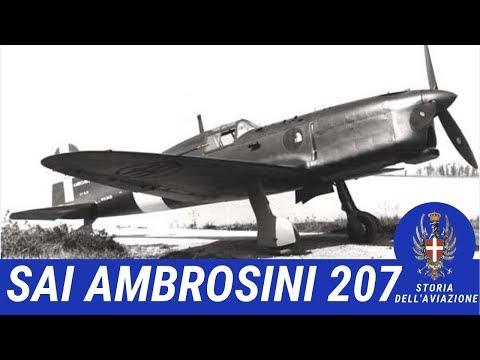 http://www.alatricolore.it/alatricolore/storici/s/saiambrosini/207.htm