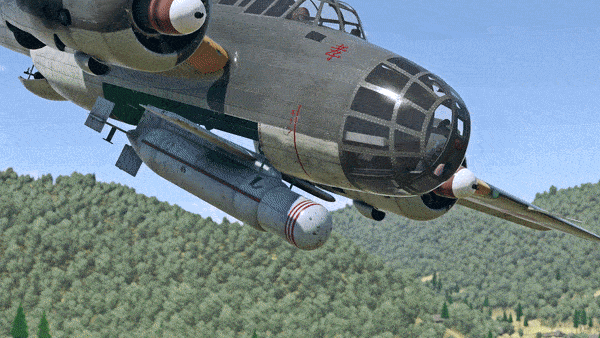 The Ki-48-II is a late modification of the prolific Japanese Ki-48 light bomber, more commonly known under the allied reporting name of "Lily". During the tail end of the war, this aircraft was specifically used as a testbed for an experimental guided missile. Soon you'll be able to obtain this aircraft along with its unique weaponry by taking part in the upcoming Tokushu Heiki crafting event!
Ki-48-II, light bomber, Japan, rank II. Premium vehicle.
Features:
Experimental guided missile.
Premium bonuses.
The Ki-48 was developed in the late 1930s under the "fast bomber" principle, which sought to develop a bomber which utilized speed as a defense; if contemporary aircraft struggled to catch it, it wouldn't need to be weighed down with extra armor or heavy defensive guns. Despite eventually falling out of favor later in the war when allied fighters began to catch up, the Ki-48 continued to see wide use in a variety of roles, one of which being a testbed for a secret weapon. It was selected to test the Ki-148 radio controlled air-to-ground missile, which underwent a variety of trials with the Ki-48 and ended up being produced somewhat widely. However, it failed to enter service before the end of the war.
This late war Ki-48-II model along with its special missile is coming to War Thunder as one of the many exciting prizes in the upcoming Tokushu Heiki crafting event starting on September 26th! Specially modified to carry the deadly Ki-148 — an experimental Japanese WWII air-to-ground missile — the Ki-48-II will join the early ranks of the Japanese aircraft tree as a new premium vehicle. Let's take a closer look!
The Ki-48-II represents an excellently versatile Japanese bomber, built with speed in mind. Being able to reach a top speed of over 500 km/h at medium altitudes and maintaining excellent agility while doing so, the Ki-48-II can simply outrun its opponents in some cases. If an enemy does manage to catch up however, it also manages to retain a deceptive amount of maneuverability. Enough to let it fly defensively against fighters to bleed their speed, getting them nice and slow for the defensive guns to pick them off. What's truly unique about the Ki-48 though is its Ki-148 air-to-ground missile. Using manual controls to guide it to its target, you'll be able to engage an enemy from a range of up to 12 km while still ensuring deadly accuracy. Thanks to its impressive HEAT warhead, the Ki-148 can easily punch through armor, and is therefore equally suited for engagements against both ground and naval targets.
The unique Ki-48-II and the accompanying Ki-148 missile will arrive soon to the early ranks of the Japanese aircraft tree as part of the Tokushu Heiki crafting event. Eager to add it to your collection? Then keep an eye out for the news on September 25th to see how you can take part! See you in the skies!