Would you like to see this in-game?
Yes, don't care how
Yes, as a researchable vehicle
Yes, as a premium/event/squadron vehicle
No
Where would you like to see this vehicle?
BeNeLux tree
French tree
Other
I said no
Welcome to another suggestion for a Belgian vehicle, the fire-support vehicle based on the Piranha IIIC, the DF30.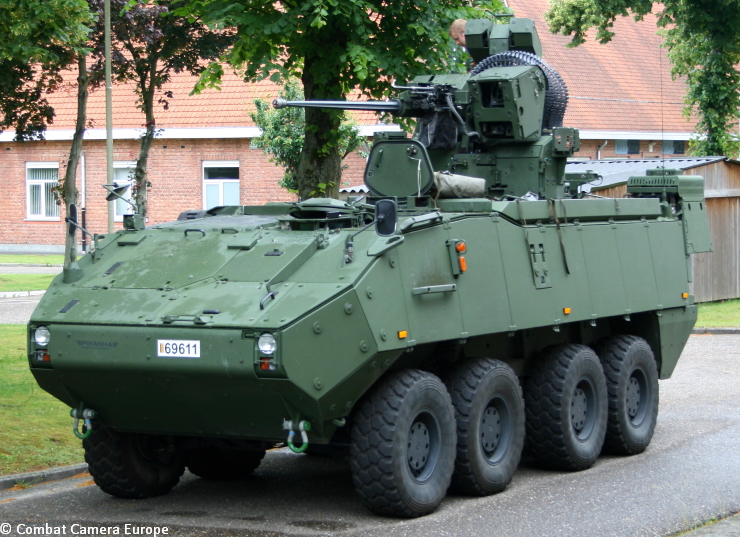 The Piranha IIIC DF30 is a result of Belgium's post-cold-war restructuring. After the end of the cold war, defense budgets in Belgium were slashed and the more expensive vehicles in the inventory were retired. The Piranha IIIC was chosen as the shared base for a variety of vehicles. An initial order for 138 vehicles of various types was signed, this would eventually seemingly grow as the fleet was stated to consist of the following vehicles: 99, APCs for the transport of ten soldiers, 32 Fire Support Vehicles with 30 mm weapon system, 40 Direct Fire Vehicles with 90mm cannon, 24 Command Vehicles, 12 Ambulances, 17 Repair and Recovery Vehicles and 18 Engineer Vehicles. Just like with the DF90s though, it seems that only 19 DF30s are currently in active service, similar low numbers of active vehicles are probably present across the board. The DF30 is currently Belgium's fire-support and light AA vehicle. The turret is uncrewed and does not protrude into the crew compartment, which allows an additional 4 crew to be transported in the vehicle, on top of the standard crew of 3. DF30 in this case stands for "Direct Fire" and 30 is a reference to the caliber of the gun. The vehicles are scheduled to be replaced somewhere in the 2030s, but currently seem to be undergoing some sort of upgrade program. Vehicles have been spotted with new sights and there's talk of integration with the Spike missile.
The systems on the Piranha IIIC DF30 make it a rather versatile vehicle even without atgms. The main armament is a 30mm bushmaster cannon, a weapon system that can already be found on a variety of vehicles in-game. This weapon comes integrated in the unmanned UT-30 turret, made by the Israeli company Elbit. An additional 7.62mm coaxial machine gun is also present in the turret. The turret features all the bells and whistles that you could want, these include 2-plane stabilization, independent gunner and commander sights, thermals, laser rangefinder, ballistics computer, target tracking, … The relatively lightweight turret allows the vehicle to make good use of its mobility. This mobility is ensured by the 395hp Caterpillar C-9 engine which powers the vehicle. The exact weight seems to be unclear but it's probably a bit lighter than the DF90, but still around 20t. The vehicle can reach speeds as high as 100km/h and has an estimated range of 600-800km. It is a rather bulky vehicle for its type though, measuring in at 7.77m long, 2.72m wide and almost 3m tall.
General Characteristics:
Crew: 3 (driver, gunner, commander) with the possibility of carrying 4 extra.
Weight: around 20t
Length: 7.77m
Width: 2.72m
Height: around 3m
Engine: 1x Caterpillar C-9, producing 395hp
Power-to-weight: +/-19hp/t
Maximum speed: 105 km/h
Range: 600-800km
Armament:
1x 30mm Bushmaster cannon.
1x coaxial 7.62mm FN machine gun
Systems:
Stabilizer: yes, 2-plane
Laser-rangefinder: yes
commander-sight: yes
thermals: yes, at least gunner.
target tracking: yes
In-game:
The DF30 would be a large but capable support vehicle. It can use its good mobility to reach objectives before others and deal with enemy light vehicles thanks to its powerful 30mm cannon. Its ability to track targets will also allow the vehicle to serve in an anti-air role, a mission for which it was also designed. The 30mm cannon will make quick work of low-flying enemy aircraft. Just like its big brother the DF90, the DF30 could be an important part of a future BeNeLux tree, or it could serve to fill gaps in other trees such as France. This flexible vehicle should be a welcome addition to no matter what tree it comes to.
Sources
Images