[Would you like to see this in-game?]
M10 Booker: The Micro Abrams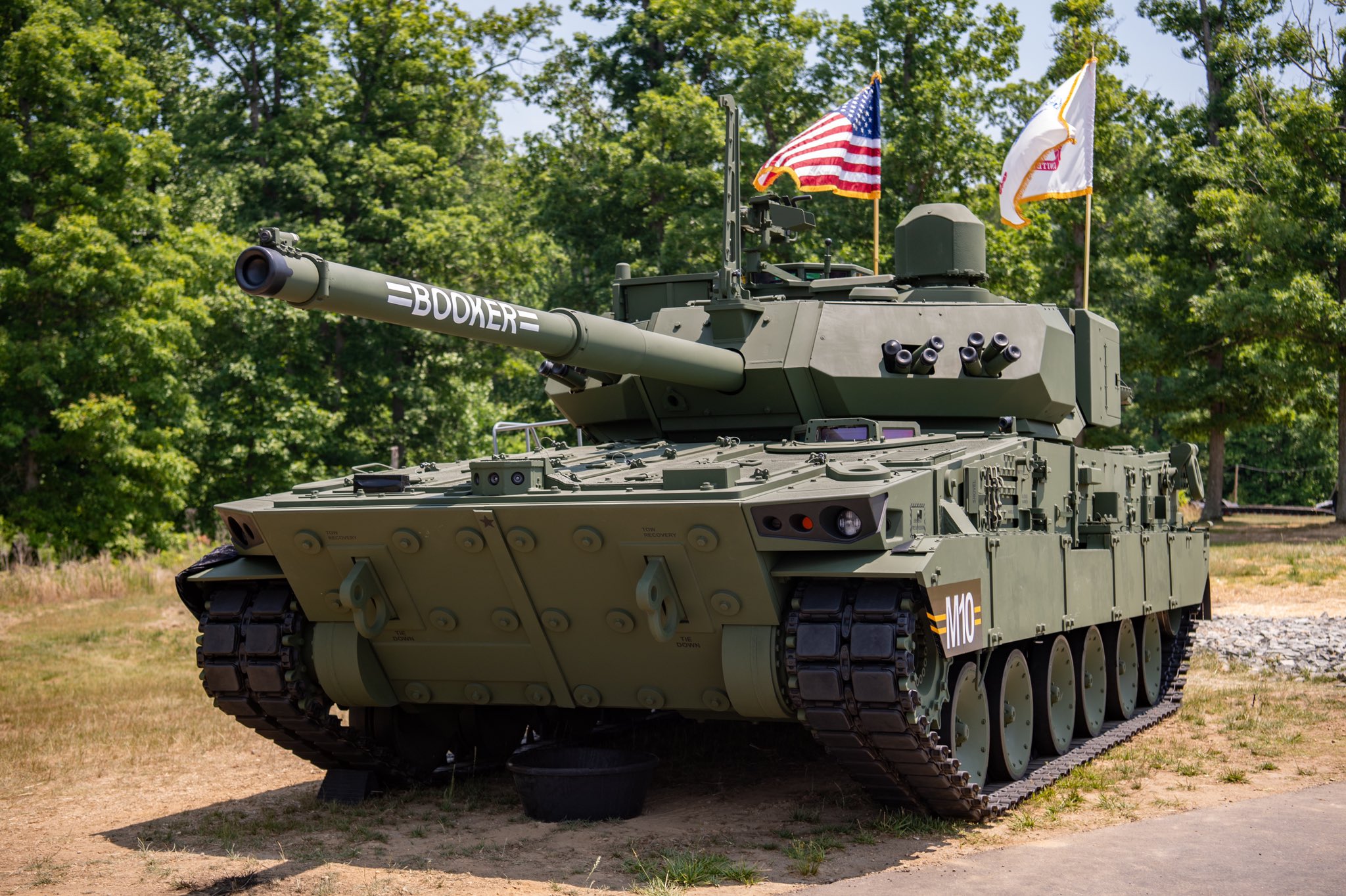 The "Booker" M10.
The M10 Booker "Falcon" during trials with the Airborne.
The M10 Booker "Panther" during exercises.
The M10 Booker "Bastogne".
The Competition:

The Mobile Protected Firepower Program is a program to provide the U.S. Army a light tank to support Infantry Brigade Combat Teams and Army Airborne Units. This is to fill gaps in U.S. Army Infantry doctrine, by providing infantry units a rapidly deployable light tank with capable firepower to engage medium vehicles and structures. The last vehicle to fill this gap was the M551 Sheridan which featured a revolutionary 152mm Gun that was plagued with issues. The program was initiated in 2018 with two contenders were selected for the program, BAE Systems and General Dynamics Land System's. Each company was to build 12 prototypes for testing with a winner being selected in FY2022. The winner will begin low-rate production for up to 504 tanks by FY2025. The following vehicles are being offered for the program. This suggestion will focus on the Griffin II Light Tank or now known as the M10 Booker.

Description:

General Dynamics Land System's M10 Booker, or formerly known as the Griffin II, is a light tank that shares its designation with the 3-inch Gun Motor Carriage M10 as well as being named after two heroes of the U.S. Army, Distinguished Cross Recipient SSG Stevon Booker who was a Tank Commander during the famous "Thunder Run" to Baghdad during Operation Iraqi Freedom and Medal of Honor recipient Pvt. Robert Booker who fought with valor in the Tunisia Campaign during WWII.
Here are the awardees citations, both of which were awarded posthumously:

SSG Stevon Booker, Distinguished Service Cross Recipient: "The President of the United States of America, authorized by Act of Congress July 9, 1918, takes pride in presenting the Distinguished Service Cross (Posthumously) to Staff Sergeant Stevon A. Booker, United States Army, for extraordinary heroism while engaged in an action against an enemy of the United States while serving as a Tank Commander with Company A, 1st Battalion, 64th Armored Regiment, 2d Brigade Combat Team, 3rd Infantry Division (Mechanized) on 5 April 2003 in Iraq. On this date, Staff Sergeant Booker's platoon led a task force in a movement to contact along Highway 8 towards Baghdad International Airport. Two kilometers after the line of departure, the platoon came under heavy small arms and rocket propelled grenade fire from an enemy element. He immediately communicated the situation to his chain of command, encouraged his crew, and returned fire with his tank mounted machinegun. When both his and his crew's machineguns malfunctioned, Staff Sergeant Booker, with total disregard for his personal safety, exposed himself by lying in a prone position on top of the tank's turret and accurately engaged the enemy forces with his personal weapon. While exposed he effectively protected his platoon's flank and delivered accurate information to his command during a critical and vulnerable point of the battle. Staff Sergeant Booker's fearless attitude and excitement over the communications network inspired his platoon to continue the attack and assured them and leadership that they would defeat the enemy and reach their objective safely. As he remained exposed, Staff Sergeant Booker identified an enemy troop carrier which was attempting to bypass his tank, but within seconds engaged the enemy vehicle and destroyed it prior to the enemy troops dismounting. Along the eight kilometer route he remained exposed and continued to engage the enemy with accurate rifle fire until he was mortally wounded. Staff Sergeant Booker's actions are in keeping with the highest traditions of the military service and reflect great credit upon himself, the 3d Infantry Division (Mechanized), and the United States Army."
Pvt. Robert Booker, Medal of Honor Recipient: "For conspicuous gallantry and intrepidity at the risk of life above and beyond the call of duty in action. On 9 April 1943 in the vicinity of Fondouk, Tunisia, Pvt. Booker, while engaged in action against the enemy, carried a light machine gun and a box of ammunition over 200 yards of open ground. He continued to advance despite the fact that two enemy machine guns and several mortars were using him as an individual target. Although enemy artillery also began to register on him, upon reaching his objective he immediately commenced firing. After being wounded he silenced one enemy machine gun and was begining to fire at the other when he received a second mortal wound. With his last remaining strength he encouraged the members of his squad and directed their fire. Pvt. Booker acted without regard for his own safety. His initiative and courage against insurmountable odds are an example of the highest standard of self-sacrifice and fidelity to duty."

The M10 Booker was developed for the Army's Mobile Protection Firepower program, a program to create an air-droppable support vehicle to assist ground units during initial assaults. It was first revealed in 2019 at the Modern Day Marine Exposition. It is equipped with an XM35 105mm Rifled Gun, a newly developed advanced lightweight gun, in a turret that is a downsized version of the M1A2 SEPv3 Main Battle Tank turret. This allows the M10 Booker to be familiar to tank crews as well as integrate the fire control system of the SEPv3. This includes the 2nd generation FLIR, or the Raytheon Gunner's Primary Sight and the Safran Paseo Commander's Sight. The vehicle also carries the Metrapib Pillar V Crew Warning System which is designed to alert crew members of incoming fire as well as provide bearing to originating source. The Driver uses the Leonardo Driver's Vision Enhancer-Wide in the front and rear, a thermal imaging camera system covering a wide arc for situational awareness in both day or night operations. The Driver likely uses a Thermal-capable periscope similar to the Driver's Vision Enhancer-Abrams sight on top of the DVE-Wide. It is expected to weigh around 34-38 tons (due to its modular armor) and is capable of having two fit inside a C-17 Globemaster III military transport aircraft. The tank hull is designed from the ASCOD family of armored fighting vehicles from which the AJAX AFV originates. The vehicle is rated to protect the crew against 30mm APDS rounds on the frontal arc as well as 14.5mm AP rounds on the sides. The vehicle is powered by a MTU Diesel Engine that produces 800hp paired with an Automatic Allison 3040 MX Cross-drive Transmission, giving the Booker an edge in mobility with an expected top speed of around 60km/h. The vehicle is manned by a crew of 4, a Driver, Gunner, Commander, and Loader, with ammunition being stored in a separate section of the tank in with blow-out panel capability to increase crew survivability. According to Army representatives during the Chieftain's Hatch interview, developing teams are assessing the viability of adding a Laser Warning Receiver and Active Protection System to the vehicle. These two systems would likely be the Israeli Iron Fist-Light Decoupled Hardkill System and the AN/VVR-4 Laser Warning System. The first of this year's 96 M10 Booker's is expected to be formerly handed over to the U.S. Army in October with the mission to support ground units during initial phases of conflict as well as low-level conflict. The Army expects to field a total of 504 of the "Combat Vehicles".

The vehicle has seen four "crew nicknames" which could add a decal/skin to the game:

Panther
Falcon
Bastogne
Booker

Special thanks to @AREX_it_the_zero@psn for clarifying the name of the newly redesignated Griffin II.

Armament:

Main Weapon: XM35 105mm Rifled Gun

Rounds:

M900A1 APFSDS-T
M456A2 HEAT-T
M393A2 HEP-T
M416 WP-T

Depression/Elevation: -10°/+20°
Additional Weapons:

Coaxial: 7.62mm M240C Machine Gun
Tertiary: 12.7mm M2HB Machine Gun

Maneuverability:

Engine: 800hp MTU Diesel Engine
Transmission: Automatic Allison 3040 MX Cross-drive Transmission (4-forward, 2-Reverse)
Chassis: Hydropneumatic/Adjustable
Max Speed: 60km/h

Dimensions:

Length: ~7.0m (~9.5m w/ Gun Forward)
Width: ~3.5m
Height : ~3.3m
Weight: 34.5-38t

Crew (4x):

Commander
Driver
Gunner
Loader

Features:

Optics:

Commander: Safran Paseo Panoramic Stabilized Commander Sight (2nd Generation FLIR)
Gunner: Raytheon Gunner's Primary Sight (2nd Generation FLIR)
Driver: Front and Rear Leonardo's Driver Vision Enhancer-Wide (2nd Generation Thermal Imagery), supplemented by a Thermal Periscope which is likely the DVE-A or similar sight.

16x Smoke Grenade Launchers
Metravib Pillar V Crew Warning System

Can detect incoming gunfire and will provide bearing of origin.

Laser Rangefinder
Composite Armor/Addon Armor:

The M10 contains Composite Armor plating located in the turret cheeks and hull. Armor is designed to be modular, allowing upscaling or downscaling depending on mission requirements.
The hull is designed to withstand up to 30mm rounds on the frontal arc and 14.5mm rounds on the sides.

Ammunition Blow-out Panels.

Reason for Implementation:

The M10 is a Light Tank being developed for the Army's MPF program. The tank is designed to operate similar to the M1 Abrams we currently have in-game. It is expected to be highly maneuverable, with a quick rotating turret (which itself is a down-sized Abrams turret), and spaced crew, allowing similar survivability of the Abrams, minus the armor. It is equipped with the M1A2 SEPv3's fire control system and thermal imaging hardware, granting it 3rd-generation FLIR for the Commander and Gunner. This vehicle is equipped with sophisticated digital systems and acoustic countermeasures, putting it on-par with main battle tanks. This vehicle should play very similarly to the IPM1 with modern upgrades and features.

Imagery/Videos:
Spoiler

General Dynamics Land System's M10 Booker.

General Dynamics Land System's M10 Booker rear view with Driver's camera system seen above the right track.

Representation of the M10.

Roadwheel design.

Safran Paseo panoramic stabilized Commander Sight.

Capabilities of the Commander's Sight from Safran.

Metravib Pillar V crew warning system.

Pillar V promotional image.

The Pillar V Crew Warning System utilizes multiple microphones to locate enemy fire.

The DVE Wide, a Thermal Camera system on the M10 Booker.

General Dynamics Land System's M10 being inspected

General Dynamics Land System's M10 side view.

The M10 during trials.

M10 during firing exercises.

The M10 during other exercises.

GDLS Artist Representation of a combat ready Griffin II.

The "Booker" M10.

The Army Chief of Staff with the newly christened M10 Booker.

Pvt. Robert Booker and SSG Stevon Booker, both the namesakes of the new M10 Booker Light Tank.

Video covering early specifications of the Griffin II/M10 Booker.

Chieftain's hatch video covering the M10 Booker.
https://twitter.com/CasualArtyFan/status/1667593137072619521?s=20
The announcement of the vehicle being renamed to the M10 Booker in honor of SSG Stevon Booker.