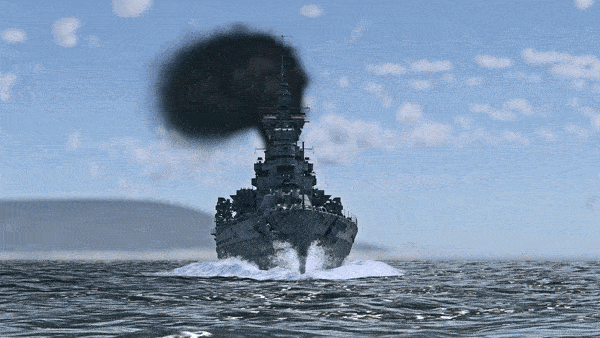 The British battlecruiser wields 381 mm guns, has perfect mobility and a lethal AA arsenal. Meet one of the best damage dealers in the British lineup!
HMS Renown, battlecruiser, Britain, rank V. Event vehicle.
Features:
381mm main guns
High speed
Multiple AA guns
Poor protection
HMS Renown was the lead ship in a series of two Royal Navy battlecruisers armed with 381 mm main guns built at the end of the First World War, during which both ships saw limited use. HMS Renown took an active part in the events of the Second World War: the ship was on missions in the North Sea, and for a long time was engaged in escorting Maltese convoys, provided long-range cover for the Arctic convoys to the USSR and participated in the Allied landings in Africa. While serving in the Indian Ocean, she became the flagship of the Eastern Fleet and took part in attacks on Japanese bases in the Philippines, and at the very end of the war even became the flagship of the home fleet. The cruiser was decommissioned in 1946, and soon after scrapped in 1948.
The battlecruiser Renown will become a new event ship at rank V in the British bluewater fleet tech tree. The high firepower and good cruising performance of the ship are most fully revealed in the attack on enemy positions and the hunt for the most heavily armoured opponents.
The main battery of HMS Renown is six 381 mm guns in three twin-barreled turrets. Two turrets and four of six main guns are located in the fore part of the hull one over another, which means that the ship is perfect for engaging enemy ships along its course, minimising the ship's profile and dodging enemy shells.
In War Thunder, HMS Renown is presented in the most complete upgrade made in 1944, which means that the outdated auxiliary 102mm guns are replaced by ten twin universal mounts with 114 mm guns. The gun mounts are placed in five on each side of the cruiser and come in handy both against light ships and enemy aircraft.
In general, HMS Renown is one of the most difficult targets in the game for enemy aerial attacks: 114 mm cannons start firing at long distances, the famous British 40 mm "pom-pom" gun mounts join when the target comes closer, followed by single and twin-barreled 20 mm. Oerlikon guns to complete the punishment.
The powerful arsenal, more than 1400 crew members, as well as torpedoes in stationary torpedo tubes, speeds of more than 30 knots (~ 55 km/h), sounds excellent, doesn't it?
**The ship is modelled for War Thunder in her latest upgrade, with a 229 mm armoured belt, as well as a 102mm armoured deck. The most vulnerable areas of the ship are its main turrets with barbettes, capable of surviving no more than cruiser fire.**