[Would you like to see this in-game?]
Disclaimer
: I really couldn't find all too much on this vehicle. If you have more information, please share it and sources in the comments section.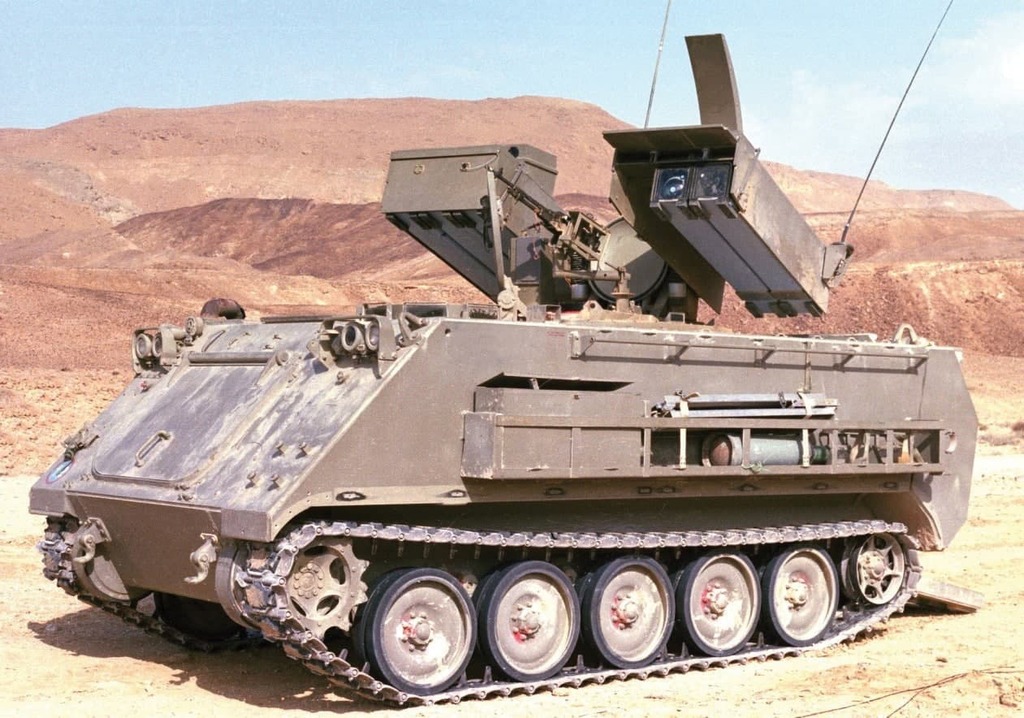 The Hafiz Tank Destroyer of the Israeli Armed Forces.
The Hafiz on display.
Description :

The Israeli Hafiz, or "Haste", is a tank destroyer designed to take out enemy armored vehicles from a distance. The vehicle is armed with six Spike-NLOS anti-tank guided missiles (ATGM), with the missile being designated as "Tamuz" in the Israeli Defense Forces (IDF). This allows the Hafiz to engage enemy tanks and other armored vehicles with precision and accuracy. The Hafiz is based on a modified M113A3 armored personnel carrier chassis, which provides good mobility and protection for the crew. The vehicle is also equipped with a powerful 275hp Detroit Diesel 6V53T Diesel Engine, which enables it to reach speeds of up to ~66 km/h. The six Spike-NLOS missiles carried by the Hafiz are capable of long range-indirect fire. Inside the hull, the vehicle can carry four spares for reloading. The missiles are guided by a Fiber Optic Link out to 8km before switching to a Radio frequency which allows the missile to maintain communications with the launcher out to 25-30km. It can however utilize both a direct attack and mid-course navigation mode, with the mid-course navigation allowing the operator to change targets mid-flight. The missile is larger than the Spike's found on other variants of the Spike with a diameter of 170mm vice the 130mm. This is in order to maximize the range of the missile, with other smaller variants of the missile limited to 8-10km. Newer variants of the missile have a maximum range out to 32km, utilize a IR camera for guidance, and can be equipped with different warheads. Some even have been equipped on helicopters. This makes them highly versatile and effective against a wide range of targets, including tanks, armored personnel carriers, and other vehicles. In addition to its missile armament, the Hafiz is also equipped with a 7.62mm FN MAG machine gun mounted on a remote-controlled turret. This provides the vehicle with additional firepower against infantry and light vehicles. The Hafiz has been used in combat by the IDF and has proven to be highly effective against enemy armored vehicles. There is a lot of secrecy involving the Hafiz and it's overall operational history. The Hafiz's ability to engage targets from a distance and with high precision makes it an important asset in modern warfare. It allows Israeli forces to engage enemy armor without putting their own tanks and troops in harm's way. This is particularly important in urban environments, where the risk of collateral damage is high. The Hafiz is also highly mobile, which makes it suitable for rapid deployment in a variety of situations. It can be transported by air or by land, which allows it to be quickly moved to where it is needed most.
In conclusion, the Israeli Hafiz tank destroyer armed with six Spike-NLOS (Tamuz) missiles (with four spares) is a highly effective weapon system designed to take out enemy armored vehicles from a distance. Its mobility, firepower, and versatility make it a valuable asset for the Israeli Defense Forces in modern warfare. With its ability to engage targets with precision and accuracy, the Hafiz served the Israeli military for many years with its likely retirement occurring in 2012.
Foreign Use:

This vehicle also experienced foreign use with the British Army which secretly using the system during the initial campaigns in Afghanistan, listed under the nomenclature Exactor Mk. 1. The British supposedly used the system until 2015. The vehicle's were disguised as the Bulldog armored vehicles since the British never used M113's.
The Hafiz, or known by the British as the Exactor Mk.1. This system was used by the British Army's 39th Royal Artillery Regiment.
Additional Note:

There are multiple variants or "marks" of the Spike-NLOS missile. I'm not sure which specific missiles the Hafiz has used or currently uses.
Special thanks to @yoyolast for their help in updating this suggestion!

Role : Tank Destroyer
Origin :
User(s):
Armament :

Primary:

6-tube Spike Anti-Tank Guided Missile Launcher

Modes: Direct Attack/Mid-course Navigation

Of note, at long ranges the missile arcs similarly to the QN506's QN502CDD missile.

Missile(s):

"Tamuz" SPIKE-NLOS

Penetration: ~700-1,000mm Penetration behind ERA (Tandem HEAT)

Other warheads such as fragmentation, PBF, and PBF/F can be equipped.

Engine: Solid-propellant Rocket
Diameter: 170mm
Range: 200-25,000m
Missile Variants:

Spike NLOS Mk. 1, Utilizes 4x delta-shaped fins. Full capabilities unknown. Used in the early 80's with high accuracy with a supposed range of 8-12km (listed as 10km). Used Initially before phased out for Mk. 2.
Spike NLOS Mk. 2: Utilizes 4x delta-shaped fins. Max range of 15km. Utilized television seeker and semi-automatic command guidance system, or SALCOS. Primary missile.
Spike NLOS Mk. 3: Utilizes 4x delta-shaped fins. Full capabilities unknown. Unknown status, could be used as a Primary missile.
Spike NLOS Mk. 4: Utilizes 4x delta-shaped fins. Max range of 30km. Equipped with infrared seeker type IIR and automatic command guidance system. Primary missile.
Spike NLOS Mk. 5: Completely redesigned version of the Spike NLOS. Utilizing 4x 90-degree folding fins located in the center of the missile to aid in stability control. 25km max range. Redesigned optical system with thermal capabilities. Not a primary missile for the Hafiz but is for the Pereh. Can likely be fired from the Hafiz as the Pereh and Hafiz share very similar fire control systems.
Spike NLOS Mk. 6: Same appearance as the NLOS Mk. 5, the Mk. 6 features enhanced ranges from 32km to 50km depending on the launch platform. Not used by Pereh or Hafiz.

Missile Notes:

Believed that Spike NLOS Mk. 2 and Mk. 4 were the primary missiles used with the Hafiz while the Pereh used the Mk. 2, Mk. 4, and Mk. 5.
The Tamuz can equip different warheads for HE or Anti-tank missions.

Secondary:

7.62mm FN MAG Machine Gun

Maneuverability :

Engine: 275hp Detroit Diesel 6V53T Diesel Engine
Transmission: Allison TX-100-1 Automatic Transmission
Chassis: Torsion Bar
Max Speed: 66km/h

Dimensions :

Length: 5.3m
Width: 2.7m
Height: ~3m
Weight: ~13t

Crew (4x):

Commander
Gunner
Gunner
Driver

Features :

Laser Rangefinder
Optics (need more information on this section):

Driver: Likely IR Passive.
Gunner: Likely a Electro-optical thermal imager.
Commander: Likely a Electro-optical thermal imager.

In-game :

The Hafiz offers a much needed ATGM carrier for the Israeli Ground Forces Tree. Armed with either 6x Mk.2's, Mk.4's or a combination of both deadly Spike-NLOS missiles, the Hafiz can lock on and launch its payload and retreat to the closest point to reload. These missiles aren't the standard Spike 130mm variants, this is a 170mm Spike-NLOS with the capability of reaching 10-30km . The vehicle however is highly vulnerable in urban areas and like all ATGM carriers, can be destroyed by targeting its missile launchers. It does fill a solid secondary role of knocking out low flying aircraft, drones, and helicopters due to the accuracy and capability of the Spike missile. It should be limited for the time being to the Tamuz Mk. 2 which utilizes SALCOS out to 15km as the capability to change the missile's course and target as seen with the Tamuz Mk. 4 and Mk. 5 would be considered overpowered. Artillery functions such be focused on first prior to long range missile technology like this and the British Overwatch, a variant of Ajax armed with Brimstone missiles. This vehicle would fill a gap just before any Pereh missile carrier was added.
Estimated Battle Rating: 9.0-10.3+

The rating is due to it being limited in close-range environments as well as limiting it to a direct-fire role with Tamuz Mk.2's for the time being. Given it's Tamuz Mk. 4's NLOS capability, it could destroy targets on any current map and would be overwhelming which would drive its BR to 10.3 or higher.

Sources :
Imagery
Spoiler

Image gallery of the Hafiz including launching of the Tamuz missile.

A closeup of the launchers equipped with different variants of the Spike NLOS or aka Tamuz.

Other views of the Hafiz and launching system.

The Tamuz Mk. 5, one of the latest iterations of the Tamuz missile with the latest being the Tamuz Mk. 6.