[Would you like to see this in-game?]
Fiat 3000 Modello 1930
History
In 1920, Italy was short of tanks and the high commands had noticed. The only tanks on the ground were two Fiat 2000s and some French Renault FTs used for tests. The High Commands together with the industries decided to create a new national tank based on the Renault FT tank, and so they started the works. After a few years, in 1920, the first vehicle was built and it was basically an improved Renault FT tank with a different armament. At the end of the 1920s the tank was modified to be able to mount a Vickers-Terni 37/40 cannon (the same as the M11/39 tank) and was called the "Fiat 3000 Mod. 30 Assault Tank". The vehicle was distributed to the crews and was used until 1943, the year in which the last Fiat 3000 tank was destroyed during the fighting near the city of Gela.
As mentioned in the title, the tank had many names, and I tried to write them all below:
Carro d'Assalto FIAT 3000 B
Carro d'Assalto FIAT 3000 Modello 1930
Carro Armato Modello 1930 (or M.30)
Carro Armato L.5/30
Armament and propulsion.
The Fiat 3000 Model 1930 was armed with a 37/40 Cannone Vickers-Terni cannon with semi-automatic breech with an elevation of -10°/+20°. The vehicle carried up to a maximum of 68 armor-piercing and semi-piercing ammunition.
The vehicle was powered by a 6,236 cm³ FIAT Tipo 304 petrol engine for Tank 3000 with four cylinders in line which delivered a maximum power of 50 HP and allowed the vehicle to reach a maximum speed of 24 km/h.
Photos and drawnings:
Sources: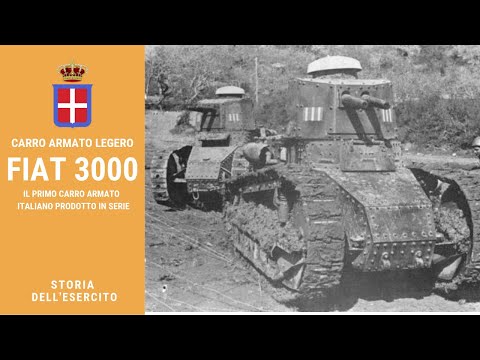 http://www.storiain.net/storia/litalia-non-e-un-paese-per-tank/