[Would you like to see this in-game?]
What should this be added as?
*Tech tree
*Premium
*Event Vehicle
*Battle Pass Vehicle
*I said no to the previous question
[/poll]
General info:
The Bristol Blenheim IV was a British twin engine light bomber used heavily during WW2. The 'IV' model was redesigned with a longer nose and superseded the Blendheim on the production lines in 1938. It had been developed from a civilian aircraft and was one of the first high performance monoplanes used by the RAF.
History:
The captured Blenheim Mk.IV (N3589) was the first multi-engine aircraft to be captured by the Regia Aeronautica during the seccond world war. N3489 was coming from the English airport of Thorney Island and it was flying towards Malta but it landed in Pantelleria at h. 10.30 of 13th September 1940.
The plane was going very low on the field with the obvious intent of landing. It was signaled not to be shot at by the anti-aircraft. Immediately, it was surrounded by armed airmen. The three crew members (pilot officer, navigational officer, graduate radio telegraph operator) declare that they have been flying for over seven hours with no fuel left, and they believe that they landed in Malta.
On September 16, Enrico Cigerza transfers the plane from Pantelleri to Guidonia.
On 4 October 1940, the plane was examined by Vittorio Emanuele III during a visit to the Experimental Center.
The Blenheim was used for photographic and cinematographic propaganda shooting, in simulated fights with a CR.42 and C.200. The plane emited a abundant ammount of smoke trails but the only real victim was the pilot which was forced to work in the cabin that had a lot of fluid in it.
Armament + Equipment:
Guns:
1 × .303 in (7.7 mm) Browning machine gun in port wing
1 or 2 × .303 in (7.7 mm) Browning guns rear-firing in under-nose blister or Nash & Thompson FN.54 turret
2 × .303 in (7.7 mm) Browning guns in dorsal turret
Bombs:
4 × 250 lb (110 kg) General Purpose bombs or
2 × 500 lb (230 kg) GP bombs internally
Specifications:
General characteristics:
Crew: 3
Length: 42 ft 7 in (12.98 m)
Wingspan: 56 ft 4 in (17.17 m)
Height: 9 ft 10 in (3.00 m)
Wing area: 469 sq ft (43.6 m2)
Empty weight: 9,790 lb (4,441 kg)
Gross weight: 14,400 lb (6,532 kg)
Powerplant: 2 × Bristol Mercury XV 9-cylinder air-cooled radial piston engines, 920 hp (690 kW) each
Propellers: 3-bladed Hamilton Standard variable-pitch propellers, built under a license agreement (1935) by de Havilland
Performance:
Maximum speed: 266 mph (428 km/h, 231 kn) at 11,800 ft (3,600 m)
Cruise speed: 198 mph (319 km/h, 172 kn)
Range: 1,460 mi (2,350 km, 1,270 nmi)
Service ceiling: 27,260 ft (8,310 m)
Wing loading: 30.7 lb/sq ft (150 kg/m2)
Why should the plane be in game:
It would be cool to see another British Aircraft in the Italian tech tree in the game, and it would also be good CAS for 1.7. It also wouldn't be a problem for the developers to add it into the game seeing that the actual model is already in game and they would only need to make the skin for the aircraft.
Video: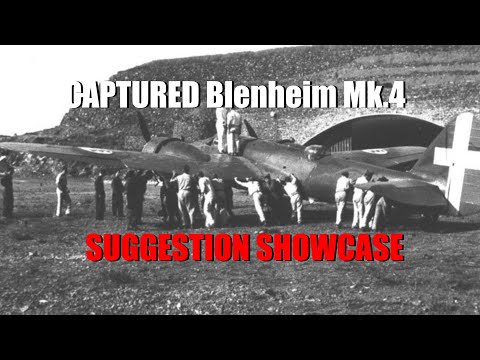 Sources:
Sources for Armament and specifications: Bristol Blenheim - Wikipedia
Source for the History of the aircraft (in Italian):
Dimensione cielo, vol. 6- bombardieri
Ali Straniere In Italia 6 - Prede Di Guerra (https://www.avioshopping.com/it/libri-aeronautica-italiana/609-ali-straniere-in-italia-6-prede-di-guerra.html?fbclid=IwAR2S9A6hsHbHZBIRTjWtk6x-hB2o9yYPYk8OeZ1GRwCbs0tT5oZ9UcGllDo)
Photo used for propaganda:

(Photos below provided by Nicho and the WT-ITA suggestion group)