[Would you like to see this in-game?]
117ft Camper & Nicholson MGB, MGB 502
Vehicle design and service history:
Nine boats were originally ordered by the Turkish government, or the Spanish depending on the source in the pre war period. The hulls lay idle for a time, before with the outbreak of the war they were requisitioned for the royal navy during construction, and would enter service in may of 1942. The boats, 501, 502, 503 and 509 were completed as MGBs, while the others 504-508 were modified to become Merchant navy blockade runners, which would go on to participate in Operation Bridford where the two boats originally intended to be 506 and 508 were lost attempting to smuggle ball bearings out of sweden. In 1944 the 3 surviving blockade runners were recommissioned as MGBs 504–505 and 507 and in 1945 all the surviving boats were re titled MGBs 2002–2005, 2007 and 2009.
In regards to MGB 502, which was renumbered to 2002, its only real note, is that it sailed from Aberdeen at 0800hrs on May 11, 1945 on a mission to Gothenberg, only for her to be struck by a floating mine in the Skagerak. The explosion killed 5 officers, 19 ratings and 4 ellerment wilson officers, leaving only two survivors who were picked up three days later.
Vehicle specification:
Dimensions: Length: 117ft
Beam: 20ft
Draught: 4ft
Engines: 3x Davey Paxman diesel engines
Top Speed (laden): 30 knots
Armament: 1 x 2 pounder 40mm pom-pom gun
2 x twin Vickers 0.5" machine gun turrets
1 x twin 20mm Oerlikon
1 x 6 pounder QF gun
2 x twin .303 machine guns
1 x Holman Projector
4 x Depth Charges
Historical pictures:
MGB 502 and crew in dock, offering a good view of the 6 pounder mounted on the bow, along with the depth charge racks:
Hide contents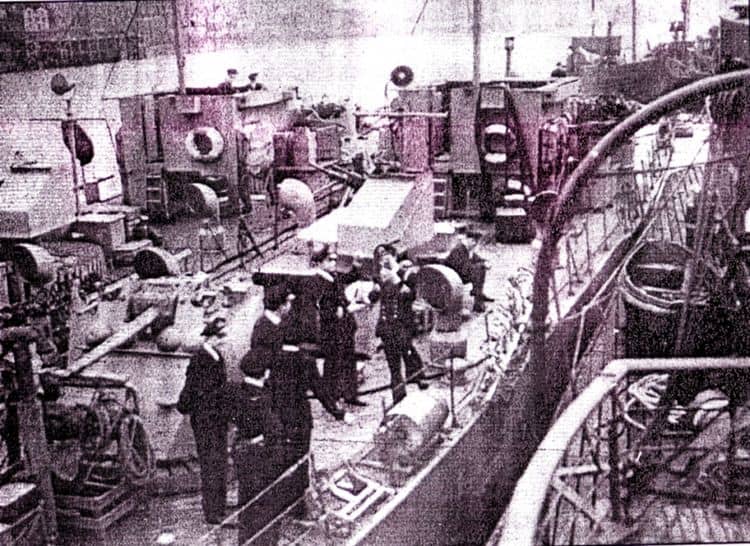 Hide contents
Sources: