The USS Finnegan (DE-307): Because who needs fun?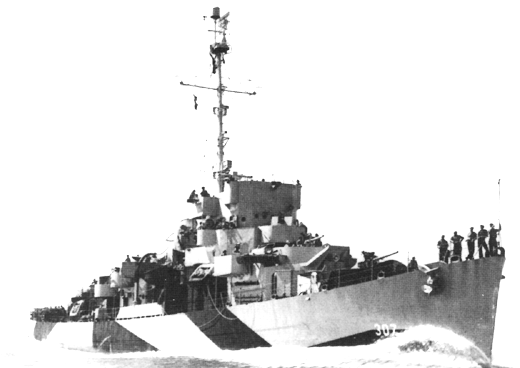 (Polls are at the bottom)
---
Overview

Hello again friends! I am an avid fan of WW2 frigates and the like, and love the USS Hoquiam despite popular belief, and so why not add more? Thus I wish to suggest the Evarts-Class Destroyer Escort DE-307, the USS Finnegan.
---
Basic Information

Designation: DE-307

Name: "Finnegan"

Namesake: Ensign William Michael Finnegan, killed on December 7, 1941 at Pearl Harbor

Class: Evarts-Class

Role: Destroyer Escort

Crew: 198

Shipbuilder: Mare Island Navy Yard

Laid Down: July 5, 1943

Launched: January 22, 1944

Commissioned: August 19, 1944

Decommissioned: November 27, 1945

Stricken: December 19, 1945

Fate: Scrapped, June 1946

Awards: 3x Battle Stars
---
Specifications

---

Specs - Dimensions

Length: 289 ft 5 in (88.21 m)

Beam: 35 ft 2 in (10.72 m)

Draft: 11 ft (3.4 m)

---

Specs - Sailing Performance

Engine(s): 4x General Motors Model 16-278A diesel engines with electric drive, 6,000 shp (4,474 kW)

Propellor(s): 2x Screws

Max Speed: 19 knots (35 km/h; 22 mph)

Max Range: 4,150 nmi (7,690 km)

---

Specs - Armament

---

Specs - Armament - Primary Armament

3x single 3"/50 (76 mm) Mk.22 dual-purpose guns

---

Specs - Armament - AA Armament

1x quad 1.1"/75 (28 mm) Mk.2 AA gun

9x 20 mm Mk.4 AA guns

---

Specs - Armament - Additional Armament

1x Hedgehog Projector Mk.10 (144 rounds)

8x Mk.6 depth charge projectors

2x Mk.9 depth charge tracks

---

---

Specs - Additional Information

Nothing really to show here… Sorry I guess.

---
---
Usage in Battles

The USS Finnegan would play somewhat similar to the USS Hoquiam, with light-caliber guns and a great Anti-Air array for its size, with decent survivability.

Pros:

Good Survivability

Good Anti-Air array

Cons:

Poor Speed

Small-Caliber Primary Armament
---
History

The USS Finnegan (DE-307) was launched on February 22, 1944 by Mare Island Navy Yard, her construction sponsored by Mrs. Charles Schroeder, sister of Ensign Finnegan; commissioned on August 19, 1944.

USS Finnegan arrived at Pearl Harbor on November 8, 1944 to serve as an escort for submarines conducting training exercises in preparation for wartime patrols. She then voyaged to Midway Island escorting a transport vessel between December 11 and 20, then returned to duty submarine escorting until January 9, 1945. After amphibious training exercises on the Hawaiian Islands, USS Finnegan sailed again, escorting a group of LSTs and submarine chasers, two of which she had needed to tow for parts off the passage to Saipan.

On February 15, 1945, the USS Finnegan sailed from Saipan for the assault on Iwo Jima, during which she provided cover for the transport ships, screening the transports as they launched their boats for the initial invasion on February 19.

A week later on February 26, while escorting empty transports back to Saipan, USS Finnegan made a surface contact, detected by Radarman Robert N. Perry, and was departed from the convoy screen to locate and sink the Japanese submarine, identified to be I-370. In a four-hour long attack, USS Finnegan manages to sink I-370, located to be sunk at 22°45′N 141°27′E.

From Saipan, USS Finnegan escorted the transports on toward Espiritu Santo, arriving on March 15, 1945. She then sailed ten days later for the island of Ulithi, the vast base from which the Okinawa assault was to be staged, and on April 9, she reached the newly assaulted island. Sailing on to do anti-submarine patrols, as well as screening assault shipping transports/routes. USS Finnegan would only see one more major combat event, firing her Anti-Air guns to drive off a would-be Kamakaze plane on May 28. On July 10, she departed Okinawa for duty in the Philippines on local escort and patrol assignments until September 15.

Finally, USS Finnegan sailed for Eniwetok, Pearl Harbor, and then Charleston, South Carolina, where she was decommissioned and placed into reserve on November 27, 1945, being sold for scrap on June 1946.

All in all, she would earn 3 Battle Stars for her service.
---
Additional Photos
---
Sources
---
[Would you like to see this in-game?]
[How should it be Implemented?]
Tech Tree
Premium
Event
Squadron
I said no