The HMS Erebus (I02): yea… but I carry a BIG STICK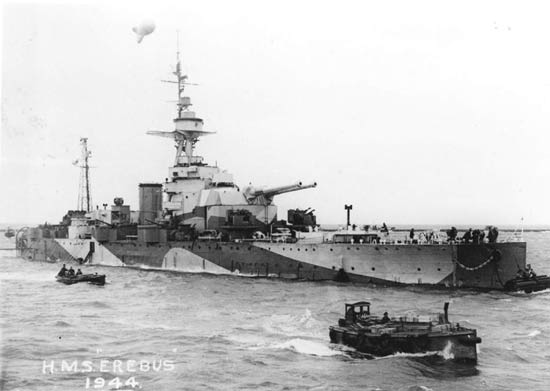 (Polls are at the bottom)
---
Overview

Hello again people! I hope you reader are having a good day, and today I suggest a interesting British naval vessel from WW1, seeing action in WW2 and the D-Day landings, The Erebus-Class Monitor I-02, the HMS Erebus.
---
Basic Information

Designation: I-02

Name: "Erebus"

Namesake: Hecla-Class Bomb Vessel, HMS Erebus, 1826

Class: Erebus-Class

Role: Monitor

Crew: 226

Shipbuilder: Harland & Wolff

Laid Down: October 12, 1915

Launched: June 19, 1916

Commissioned: September 2, 1916

Fate: Scrapped, July 1946
---
Specifications

Dimensions:

Length: 405 ft (123.4 m)

Beam: 88 ft (26.8 m)

Draft: 11 ft 8 in (3.56 m)

Displacement: 7,200 long tons (7,300 t)

Sailing Preformance:

Engine(s): 4x oil-fired Babcock & Wilcox water-tube boilers, 2x Marshalls of Wednesbury 2-2-0 Planet Shaft-reciprocating engines, 6,000 hp (4,500 kW)

Propellor(s): 2x 3-bladed screws

Max Speed: 14.1 kn (26.1 km/h)

Max Range: 2,480 nmi (4,590 km)

Armament:

Main Gun(s): 2x 15 in (381 mm) BL 15-inch Mk. I naval guns in a single dual-mount forward turret

Secondary Gun(s): 8x QF 4 in (100 mm) Mk V naval guns

Anti-Air Guns: 2x QF 12-pounder (3 in, 76 mm) 18 cwt anti-aircraft cannons, 2x QF 2-pounder (40 mm) anti-aircraft guns, 4x .303 in (7.7 mm) Vickers machine guns

Armor:

Deck (Forecastle): 1 in (25 mm)

Deck (Upper Deck): 2 in (51 mm)

Deck (Magazine): 4 in (102 mm)

Conning Tower (Sides): 6 in (152 mm)

Conning Tower (Roof): 2.5 in (64 mm)

Main Gun Turret (Front): 13 in (330 mm)

Main Gun Turret (Sides): 11 in (279 mm)

Main Gun Turret (Roof): 5 in (127 mm)

Main Gun Catch (Barbette): 8 in (203 mm)

Bulkheads: 4 in (102 mm)

Anti Torpedo Bulge (Inner Layer): 4ft (1.2 m) of steel tubing

Anti Torpedo Bulge (Outer Layer): 9ft (2.7 m) air compartment
---
Usage in Battles

The Erebus would be an interesting addition, requiring a more patient playstyle, due to its abysmal speed, base capturing is more of a late-game tactic. However, it would make a fantastic start to more heavy-caliber ships, as its armor and 15 inch guns would make it a dangerous adversary to smaller vessels, using its extended range advantages to snipe kills.

Pros:

Great HE Shells

Great Protection against torpedoes

Able to make long range kills to smaller vessels.

Cons:

Abysmally Slow

Only 2 main guns in single turret
---
History

The Erebus-Class was a redesign of the previous Marshal-Ney monitors, carrying significant overall improvements, and on September 29, 1915, the Royal Navy ordered two over her class be built by Harland and Wolff, then named simply as yard no. 492 and 493, being renamed the Erebus and the Terror on October 13. The Erebus was completed and launched on June 19, 1916.

Entering service in the First World War, Erebus preformed bombardment duties against German naval forces based at the Belgian ports of Ostend and Zeebrugge. On October 28, 1917, Erebus was damaged by a remote controlled German FL-boat, seeing significant, but ultimately dismissible damage to her anti-torpedo bulge, being repaired after her duties.

In 1919, HMS Erebus took part in the British Invasion of Russia, providing gunfire support in the White and Baltic Sea.

In 1921, Erebus took part in gunnery trials against the surrendered German battleship SMS Baden. Afterwards she served as a gunnery training ship during the inter-war period. After her 1939 refit completed in August, she was earmarked as guardship at Cape Town, how she was reassigned at the start of WW2.

In the early years of WW2, Erebus served with the Eastern and Mediterranean Fleet, where she ran supplies to besieged troops in Tobruk and bombard enemy concentrated positions. During the Japanese attack on the Trincomalee harbour, Erebusbreceiving a near-miss hit from Japanese aircraft, suffering casualties. In 1943, she was damaged while bombarding Sicily during it's respective Allied invasion.

Erebus was also used for coastal bombardment during the Normandy Landings on June 6, 1944, firing at the coastal batteries at Barfleur and La Pernelle. Suffering one 15-inch gun destroyed due to a premature explosion of a high explosive round in the bore.

On August 10, 1944, she was used against the defenders of the harbour at Le Havre. She was damaged by the battery at Clos des Ronces and returned to Britain for repairs. In November 1944, she supported Operation Infatuate, the amphibious assault on Walcheren, in the Netherlands.

Erebus was scrapped in July of 1946. Parts of her were salvaged and reused, It is believed that one of Erebus' 15-inch guns was used to equip the HMS Vanguard, the Royal Navy's last battleship.
---
Additional Photos
---
Sources
---
[Would you like to see this in-game?]
[How would you like to see this in-game?]
Tech Tree
Premium
Event
Battle Pass
Squadron
I said no
[What BR should it be at?]
5.7
6.0
6.3
I already said no