RNoAF Republic F-84G Thunderjet
TYPE:
One seated fighterbomber
AMOUNT IN NORWEGIAN SERVICE:
200
MANUFACTURER:
Republic Aviation Company
DESIGNED BY:
Alexander Kartveli (1896-1974)
FIRST FLIGHT:
February 1946
ARMAMENT
6x 12.7mm M3 Colt-Browning machineguns
2.045 kg Load of bombs or rockets
TECHNICAL DATA
Eigne: Allison J35-A-29A
Length: 11.60 m
Wingspan: 11.10 m
Height: 8.4 m
Wing area: 24 m²
Weight, empty: 5,200 kg
Weight, loaded: 8,200 kg
Max Take-off: 10,585 kg
Thrust: 24.89 kN
Top speed: 1,000 km/h
Cruise speed; 770 km/h
Range: 3,200 km
Max altitude: 12,350 m
Climbing capacity: 19.1 m/s
HISTORY
No other type of aircraft has served in such large numbers in Norway as the F-84G Thunderjet, 200 aircraft were delivered, all as part of the American weapons aid. There is a bit of variation in the sources as far as the number is concerned, so this must be seen as an indicative number. The delivery lasted for 5 years and it therefore became central to the development of the Air Force, later the Air Force, in the early 1950s. 6 fighter squadrons were set up with the aircraft type. In addition, 6 F-84Es were converted to photo aircraft and used by the 717 Photo Reconnaissance Squadron. However, there were many accidents, and many pilots lost their lives.
The F-84G was the latest major version in a product line from Republick Aviation that could be traced back to a prototype called the XP-84. It was completed in December 1945 and first flew on 28 February 1946. The G model had a more powerful engine than the previous versions, greater speed, range and payload. Nevertheless, the engine was considered to be a bit weak, and the brakes were poor. The aircraft needed long runways. The aircraft type was used in large numbers during the Korean War and in the large deliveries to NATO allies due to the tense situation in Europe
The first machines Norway received were 6 f.84E which landed at Sola on 10 September 1951. All later machines were of the F-84G type. The first unit to be assigned the Thunderjet was 334 Squadron. It received the 6 F-84E machines in 1951, and then 25 new F-84Gs in the summer of 1952. The department was part of "flygruppe 2" at Sola together with 331 and eventually 338 squadron. 331 squadron received its first aircraft at the end of August 1952, and on 20 September the squadron had 10 F-84Gs and also 15 Harvards on loan. In 1953 and 54, both squadrons had aircraft in Bodø and Bardufoss to keep an eye on Soviet warships, and from the summer of 1955, Bodø became a permanent location for both divisions. The F.84G was used until 1958, when the F-86F Saber was introduced
332, 330 pg 336 squadron eventually made up Flight Group 1 at Gardermoen. 332 received its first machine on 2 May 1953 and was up to 25 aircraft within a few months. The squadron became the first on Ørland in 1954 and the same on Rygge in 1955, with some periods in between at Sola and Torp. The F-84 period in 332 squadron lasted until the early summer of 1957. By then the squadron had already received the first F-86F Sabres.
330 squadron was restored at Gardermoen on 20 July 1953 after eight years of dormancy and on 22 August of the same year received its first F-84g. A couple of years later, the force was up to 25 aircraft. from the end of 1954 the squadron was given the role of Operational Training Unit O.T.U. for all Thunderjet departments, an advanced training department for new pilots before they were deployed to other departments. In 1956, 330 moved to Rygge, where it remained until it was shut down again in 1958.
336 squadron became the only department to go directly from one type of jet to another. 5 March 1953, the last Vampire was delivered to JTV at Sola at the same time as the first F.84G arrived. The unit was transferred to Rygge in October 1955, and took over the four remaining F-84 E from 717 squadron in 1956. In December 1956, the squadron was disbanded. 338 squadron was the sixth and last Thunderjet squadron and was established at Sola in February 1954. The division moved to Ørland in October 1954 with 23 aircraft. It was intended that this squadron would also be converted to the F-86F in 1958, but later in the year this was reversed. 338 squadron therefore flew the Thunderjet until April 1960, before they received their new aircraft.
During these years, it turned out that Norway had more Thunderjets than needed, and eight aircraft were handed over to Portugal. The rest was eventually disposed of in Norway. Some specimens have been preserved, and therefore the F-84G can still be seen at the Luftforsvarsmuseet in Bodø and at most other aviation museums in Norway. I might go there someday to take some pictures.
VIDEO
In this video we see the F-84 flying in Norway (Norwegian voices)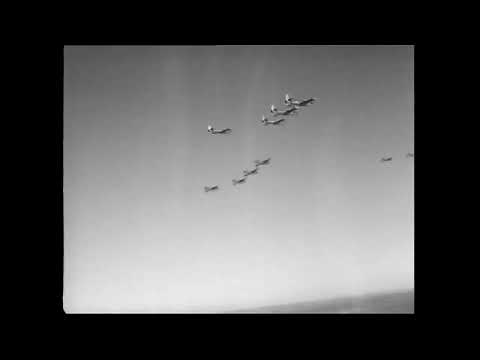 I have translated what they are saying, so it is easier for you who don't understand Norwegian ;-)
00:03 Three flights from one of our fighter squadrons are getting ready for flight in central Norway
00:13 They are F-84 type jets with a 1-man crew
00:55 The planes take off in formation with both normal tanks and tip tanks on the ends of the wings full of fuel
01:14 Just a few minutes after the start, the formations over the Kongsvinger tracts are at great speed
01:34 This is how these fighter-bombers attack in tight formation
01:50 The planes are ultra-modern and very well suited for low attacks
01:55 It all takes place in seconds
01:59 Just half an hour after the start, the formation entered over Jotunheimen at a relatively low altitude
02:13 This is how our country looks from a modern plane
02:23 We recognize the Kvernneggen/Kvessneggen
02:29 So on into the mountain home (PS! They are flying over Dovrefjell)
02:55 Towards the end of the flight, the formation goes up to high altitudes to reduce air resistance and save fuel
03:01 Here they like at about 10,000 metres, and it's probably -60 Celsius up there that causes the white condensation stripes
03:35 The end
SKINS 10x
Spoiler
PICTRUES
Spoiler
SOURCES
Spoiler

Republic F-84G Thunderjet - Flyhistorisk Museum Sola
Republic F-84 Thunderjet – Wikipedia
Republic F-84G Thunderjet — Norsk Luftfartsmuseum
https://www.youtube.com/watch?v=ge_WMS59_3o (original youtube video)
https://www.adlibris.com/no/bok/norske-militarfly-9788271286873?
https://www.norli.no/boker/dokumentar-og-fakta/historie-og-dokumentar/krig-og-historie/luftforsvarets-historie-fortalt-gjennom-75-gjenstander?
Venner av Luftforsvaret | Facebook
POLL
Would you like to see this in-game?
This post was made by
Til_Dovre_Faller
Warthunder_Norway