[Would you like to see this in-game?]
RNoAF GENERAL DYNAMICS F-16A FIGHTING FALCON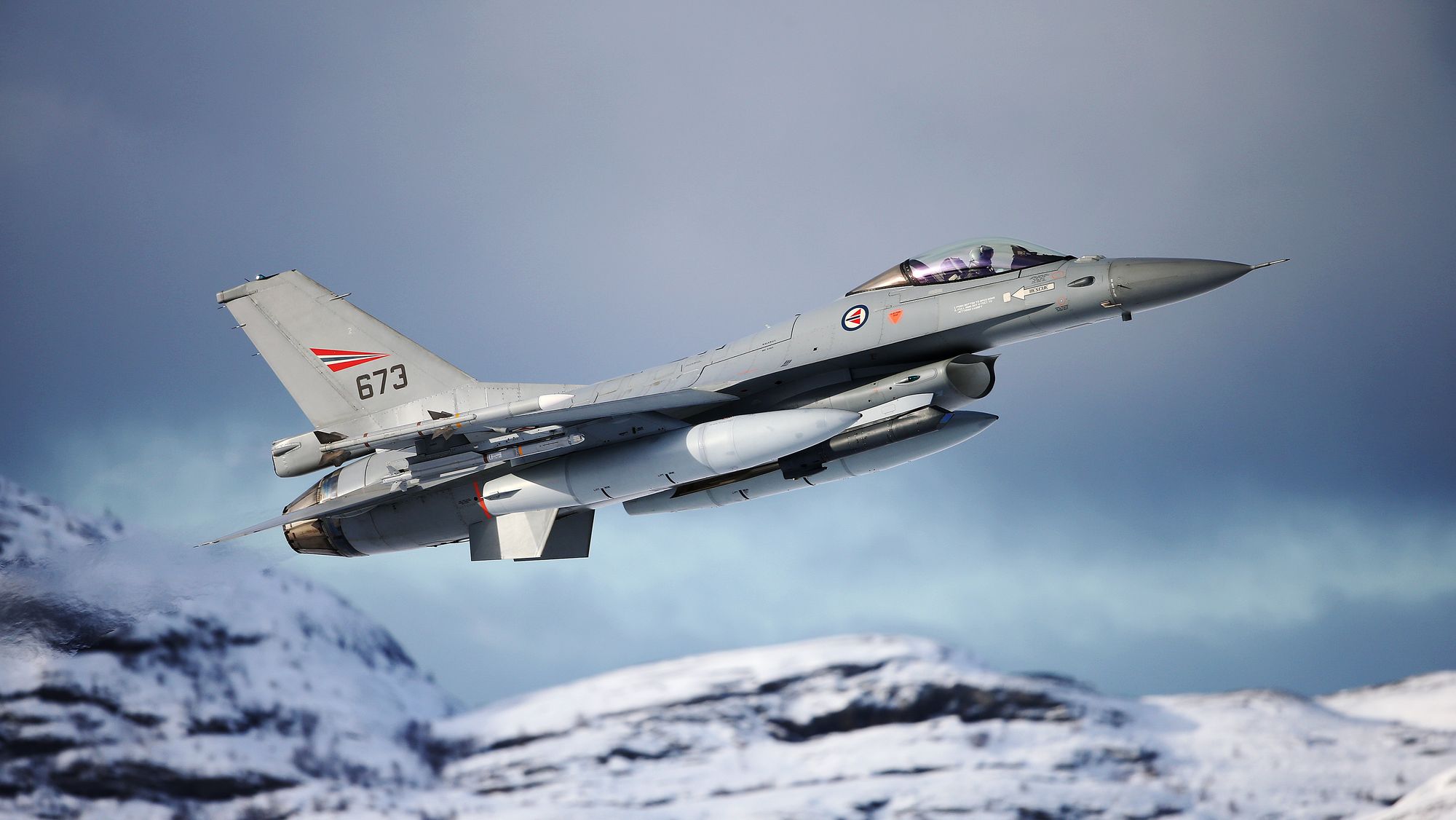 TYPE: One seated multi-role jetfighter
AMOUNT IN NORWEGIAN SERVICE: 62 planes
DESIGNED BY: General Dynamics & Lockheed Martin
CONFIRMED ORDERED/BOUGHT IN: 1975
ENTERED RNoAF SERVICE IN: 15 January 1980
ARMAMENT
1x M-61A1 20mm cannon 500 shots
6x Air to air missiles
1x Kongsberg Penguin anti ship missile
TECHNICAL DATA
Wingspan: 10.0m
Lenght: 15.1m
Eigne: Pratt & Whitney F 100-220 E
Speed: 2400 km/h Mach 2.05
Range: 3.230 km
SERIAL NUMBERS - times in service and fates


Yes, i wrote and set it up manually, it took me hours and hours and i have done it with every single aircraft suggestion have made!
HISTORY
Beyond the 60s, it was clear that Norway would have to look around for a new buyer for the Starfighter, and the process started in earnest in 1970. Together with the NATO countries Denmark, the Netherlands and Belgium, several alternatives were considered; French Mirage F.1, Swedish Saab 37 Viggen and either Northrop F-17 or F-16 from General Dynamics, later Lockheed Martin.
The idea was that everyone should choose the same aircraft type, and the group eventually landed on the¨F-16. In the summer of 1975, Norway ordered a total of 74 aircraft, 60 single-seat F-16A and 12 two-seat F/16B. All were to be built under license at the Fokker/factory in the Netherlands. The deal was referred to as the Flight Purchase of the century.
The first aircraft took to the wings on 12 December 1979. The aircraft were produced in blocks and mini-blocks and were developed along the way. The Norwegian F/16A machines came from the main blocks 1, 5, 10 and 15 and were equipped with F100/PW/220E engines with digital electronic fuel control. Hulls have since been reinforced to extend the life of the aircraft, and the main computer, fire control systems, cockpit equipment, electronic equipment and everything has been replaced or upgraded. The largest of these upgrade programmes, MLU-Mid Life Upgrade, which continued until the turn of the year 2002-2003, resulted in 57 aircraft, F-16A and B, being adapted to the block 15 standard. The Block 10 aircraft received, among other things, new wings and tail surfaces. After this upgrade, the one-seaters received the designation F-16AM and the two-seaters F-16BM. The aircraft's planned lifetime in the Air Force was thereby extended to 2015. This work was mainly done at Kjeller. In addition, there have been several update programs up to the present day.
332 Squadron became the first detachment to receive the F-16. The squadron had been temporarily closed in 1972, but was re-established on 1 January 1980 as the first F-16 division. It was initially given the status of OTU operational training unit, for both pilots and technical personnel, and was able to take over the first aircraft, the two-seater F-16B 301, on 25 January 1980. The aircraft had arrived in Norway ten days earlier. The first one-seater, 272, did not arrive until the end of April.
However, 331 squadron in Bodø became the first operational department to receive F-16s, and from 1 April 1982 it was operational as a pure F-16 department. Then it was 334 and 336 squadrons' turn, but after a short time 338 squadron took over the role as the fourth F-16 squadron from 336. From the summer of 1985, all four divisions were equipped with F-16s. during these years a number of planes have been lost, and unfortunately pilots have also died. 57 aircraft are still operational, distributed among 331, 332 and 338 squadrons. Norway has subsequently purchased two replacement aircraft from the USA. The F-16 has become the world's most sought-after combat aircraft. 4,200 aircraft have been reproduced in more than 110 different versions. approx. 22 countries bought machine. After the fall of the Iron Curtain, Norwegian aircraft have participated in several international actions such as in Yugoslavia, Afghanistan, the Baltics and Libya
A video about the Norwegian F-16, when they were taken out of service
Spoiler
A video that show the eigne in use/test/control
Spoiler

F-16 Full Afterburner - 11 litres fuel per second! - YouTube
SKINS
Spoiler

Links to picture of the skins will be provided at a later point. here is the data about them so far

680/80-3680/337 sqdr
279/78-0279/332 sqdr
672/80-3672/334 sqdr
292/78-0292/338 sqdr
659/80-3659/all squadrons
671/80-3671/338 sqdr Tiger
686/80-3686/Norwegian Air force 100 year anniversary
PICTRUES
Spoiler
SOURCES
Spoiler

General Dynamics F-16 Fighting Falcon – Wikipedia
https://www.norli.no/boker/dokumentar-og-fakta/historie-og-dokumentar/krig-og-historie/luftforsvarets-historie-fortalt-gjennom-75-gjenstander?
https://www.adlibris.com/no/bok/norske-militarfly-9788271286873?
Venner av Luftforsvaret | Facebook
http://www.aviationmuseum.eu/Blogvorm/norsk-luftfartsmuseum/
This post was made by
Til_Dovre_Faller
Warthunder_Norway