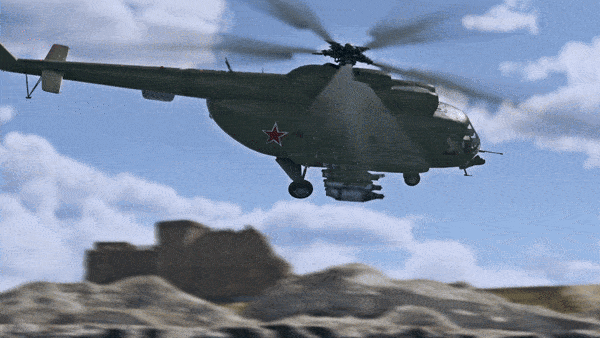 The assault modification of the multi-purpose Mi-8 helicopter was envisioned as a "flying IFV" (Infantry Fighting Vehicle) with combat capabilities close to that of dedicated attack helicopters.
Mi-8TV, Attack Helicopter, USSR, Rank V
Features:
High payload capacity.
Falanga ATGMs.
Large size.
This combat ready version of the Mi-8 was developed based on the Mi-8T model in 1974. The "TV" designation stands for "Transportno-Vooruzhenny," literally meaning "Transport-Armed." The helicopter was equipped with a movable 12.7mm machine gun in the nose, along with six pylons designed to carry a wide variety of suspended weaponry, including the Falanga anti-tank guided missile. This armament package brought the helicopter's combat ability roughly in line with early versions of the Mi-24. Despite being modified for combat, the helicopter retained its full troop transport functionality, being able to carry up to 23 soldiers, who could also fire their personal weapons through loopholes installed in the windows. The Mi-8TV helicopters were produced in limited numbers in Kazan. They were used for various roles in tandem with the Mi-24 and were also supplied to border patrol and naval aviation units.
Exciting news for all helicopter aviation enthusiasts, the legendary Mi-8 is coming to War Thunder! Meet the assault version of the most widely produced helicopter in the world, armed with rockets, bombs, and even ATGMs! The Mi-8TV will be joining Rank V in the Soviet helicopter branch in the "Sons of Attila'' major update.
The main advantage of this new giant is its impressive combined payload, making it unmatched at its rank in the game. It can carry standard and incendiary bombs from 250kg to 500kg each, Falanga-M ATGMs with a max range of 4km, and most impressively, up to 192 S-5K unguided rockets. With some careful aim, a skilled pilot can coat enemy positions with an unavoidable flurry of HEAT.
The Mi-8TV's forward armament consists of just one 12.7mm machine gun. While it can angle partially in any direction, it doesn't have full traverse. Either way, it's better than nothing and will come in handy against aerial targets at close range. However, most opponents are much better armed regarding closer range engagements, so the machine gun should not be considered as a primary weapon.
Although the Mi-8TV is significantly faster than the Mi-4AV, it's not exactly agile. Its large size makes it difficult to maneuver effectively, and is notably hard to control at high speeds. Pilots would be much better off utilizing cover for surprise attacks rather than relying on its flight characteristics. The Mi-8 is huge and very easy to spot and hit from a distance. The most successful sorties will come from giving enemies very little time to react. Pilots should avoid sitting high up in the sky, and use cover to get in close if equipped with unguided rockets or bombs.
In summary, the Mi-8TV is an interesting alternative to the early Mi-24s and a must-have for any aviation enthusiast. By the way, German pilots will also get their own Mi-8! An export version capable of carrying up to 6 "Malyutka" ATGMs. So, don't forget to check your hangars right after the "Sons of Attila" update!
You can greatly speed up the research of the Mi-8TV with this premium pack:
Black Shark Pack
The Kit Includes:
Helicopter Ka-50 "Black Shark" (USSR, Rank VI)
2000 Golden Eagles
Premium account for 15 days