[Would you like to see this in-game?]
K31 Cheonma: The Untamable Charger
A K31 Cheonma during a live-fire exercise.
Basic Description:

The K31, or K-31, Cheonma(Pegasus), Chumna, K-SAM, is a Short Range Air Defense System that features the French Designed Crotale system mounted on a modified/elongated K200A1 KIFV. Named after the legendary Sky Horse, or thousand-mile horse of Korean mythology that was deemed to swift and elegant for any man to mount, the K31 began development in the late 1990's with South Korea realized the need to increase its air defense capabilities against its Northern neighbor. The result was the development of the K31 Chunma and the K30 Biho, which are two separate programs designed to meet air defense needs. The K31 features a launcher similar to the Crotale-NG system, able to launch the Cheonma missile, developed by LIG Nexone, which is capable of reaching supersonic capable of mach 2.6-2.7, as well as several electronics and RADAR's such as the 20km K/F-Band Doppler Search RADAR and the 16km Ku-band Tracking RADAR that allow the K31 to track up to 8 targets simultaneously. Some sources claim it uses FLIR with a detection range of 15km and a TV camera with an IR goniometer for a range of 10km. The K31 is still used by the South Korean military and continues to be a cornerstone in Short Range Air Defense.
This post is to bring awareness to the uniqueness of ROK vehicles and capabilities.

Specifications:
Dimensions:

Length: 7.1m
Width: 3.4m
Height: 5.4m
Weight: 26-28t

Mobility:

Engine: 520hp - Doosan D2840L 10V turbo-intercooled diesel engine
Max Speed: 60km/h
Transmission: Automatic
Suspension: Torsion Bar

Crew:
Modifications:

Armor:

Capable of stopping 7.62mm gunfire all-around.

In-game:

With it's capabilities, it would best be suited around battle rating 11.0 (realistic).

Sources:
Imagery:
K-31 Cheonma during a military parade.
K-31 during fording testing.
K-31 firing a missile.
Imagery courtesy of Tank Encyclopedia.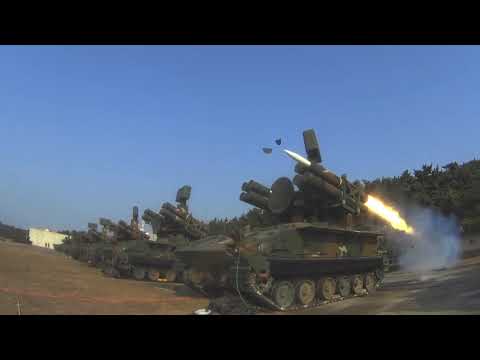 K-31 Cheonma during firing exercises.