[Would you like to see this in-game?]
Previously Passed for Consideration August 2022

I think Hibiki, I mean Verniy could be a really interesting addition to WarThunder adding a bit of Japan to the Russian destroyer line up however with all Russian guns, Either way I see it as a unique vessel that Russia has and Hibiki in media is sometimes displayed or shown off as having a Russian background, speaking Russian or having Russian symbiology.
An example:
Kantai Collection
Hibiki was a Japanese Akatsuki class destroyer that was in The Japanese Navy from 1933 to 1947 (after the war was demilitarize and converting to a repatriation ship) when it was handed to the USSR (5 April 1947)
Hibiki during her service in the Imperial Japanese Navy service earned herself many nicknames:
Unsinkable Ship
The Phoenix
The Destroyer Having The Destiny To Survive The War
The record of Movement of Hibiki before being passed over to the USSR
Spoiler

JN Hibiki: Tabular Record of Movement
Name Translation: "Echo"

Initial Command Structure:
Ship's captain: Lieutenant Commander Ishii Hagemi (prev. C.O. YAYOI). Assigned to Desdiv 6 (HIBIKI, AKATSUKI, IKAZUCHI, INAZUMA), Desron 1, First Fleet. Flagship of Comdesdiv 6, Captain Narita Shigeru.

29 November-2 December 1941:
Desdiv 6 steamed from Terashima Strait to Mako (Pescadores)

4 December 1941-4 January 1942:
Escorted Admiral Kondo's Southern Force Main Body out of Mako as distant cover to Malaya and Philippine invasion forces; also briefly escorted Malaya troop convoys during this period.

6-12 January:
Escorted MAYA from Mako to Palau.

18-20 January:
Steamed from Palau to Davao.

29 January-4 February:
Escorted tanker convoys from Davao to Tarakan and Balikpapan and back.

5-9 February:
Escorted troop convoy from Davao to Camranh Bay.

27 February:
With Western Java invasion force.

10 March:
Arrived in Subic Bay, then assisted in operations to secure the Philippines.

19-26 March:
Escorted convoy from Subic Bay to Kure, then docked at Yokosuka for maintenance.

6 April:
Captain Narita (to C.O. OI) relieved as Comdesdiv 6 by Captain Yamada Yusuke; remained flagship.

22-26 May:
Escorted TAKAO and MAYA from Kure to Ominato.

28 May-7 June:
Departed Ominato for Aleutian operations, then with Kiska invasion force.

12 June:
Heavily damaged: in air attack by U.S. PBYs at Kiska, due to near misses: bow damaged and speed reduced; then to Ominato on 27 June for emergency repairs. Comdesdiv 6 (Captain Yamada) transferred to AKATSUKI.

12 July-10 October:
Docked at Yokosuka for repairs.

13 August:
Lieutenant Commander Ishii (to C.O. IKAZUCHI) relieved by Lieutenant Commander Kudo Shunsaku (prev. C.O. IKAZUCHI). (Ishii and Kudo traded places/commands)

1-16 November:
With SAZANAMI, escorted TAIYO from Yokosuka to Truk and back.

19 November-5 December:
With SAZANAMI, escorted TAIYO from Yokosuka to Truk and back.

10 December:
Lieutenant Commander Kudo (to Civil Engineering Dept.) relieved by Lieutenant Commander Mori Takuji (prev. C.O. AKIKAZE).

15-31 December:
With SAZANAMI, escorted TAIYO from Yokosuka to Truk and Kavieng (24 December) and back, then docked for repairs.

31 December 1942-22 January 1943:
While at Yokosuka, twin 13mm (later replaced by 25mm) machine guns added on bandstand forward of bridge.

1-17 February:
With SAZANAMI, USHIO, and AKEBONO, escorted UNYO and TAIYO from Yokosuka to Truk and back.

24 February-12 March:
With SAZANAMI, USHIO, and AKEBONO, escorted UNYO and TAIYO from Yokosuka to Truk and back.

1 April:
Desdiv 6 reassigned as cadre to Desron 11, First Fleet.

4-10 April:
With SAZANAMI, OYASHIO, and KUROSHIO, escorted CHOKAI, CHUYO and TAIYO from Yokosuka to Truk.

16-21 April:
With SAZANAMI, SHIGURE and ARIAKE, escorted CHUYO and TAIYO from Truk to Yokosuka.

18 May:
Departed Yokosuka, then Northern Area patrol/escort duties.

7-17 July:
Initial troop evacuation run to Kiska, aborted due to weather.

22 July-1 August:
Second troop evacuation run to Kiska, successful on 29 July. With ABUKUMA, KISO, and five other destroyers, assigned to transport unit. Removed 418 evacuees.
3-9 August:
Steamed from Paramushiro via Otaru to Yokosuka.

9-16 September:
Docked at Yokosuka for maintenance, then departed for Shanghai.

24 September-5 October:
With MAKINAMI and YAMAGUMO, escorted troop convoy (Operation T2: HEIAN MARU, GOKOKU MARU, KIYOZUMI MARU and AKITSUSHIMA, lifting units of 17th Division) from Shanghai via Truk (2 October) to Rabaul, then to Truk on 9 October.

11-29 October:
Escorted tanker convoy from Truk via Saipan to Singapore.

2-22 November:
Escorted tanker convoys from Singapore via Balikpapan to Truk.

23 November-18 December:
Troop transport runs from Truk to Ponape, Kwajalein, Mili and Kusaie and back.

25 November:
Commander Mori (to C.O. NAGANAMI) relieved by Commander Fukushima Eikichi.

21 December:
Out of Truk to assist torpedoed tanker TERUKAWA MARU; helped rescue survivors.

27 December 1943-2 January 1944:
With INAZUMA, escorted HIYO and RYUHO from Truk to Kure.

12 January-19 February:
With INAZUMA, escorted KAIYO from Kure to Manila, Singapore, Tarakan, Palau and Truk and back.

25 February:
Desron 11 reassigned to Combined Fleet.

1-12 March:
With INAZUMA, escorted CHIYODA from Yokosuka via Saipan and Guam to Palau.

15-24 March:
With INAZUMA, escorted CHIYODA from Palau to Balikpapan and back.

27 March-10 April:
With INAZUMA, escorted CHIYODA from Palau via Balikpapan and Davao to Kure, then docked for maintenance.

10-30 April:
While at Kure, "X" turret removed/replaced by two triple 25mm mounts; two further such mounts added between torpedo tube mounts; Type 22 radar installed on foremast; and radar intercept receivers on bridge.

3-19 May:
With INAZUMA, escorted tanker convoys from Moji via Manila and Balikpapan to Tawitawi; on 14 May rescued 125 survivors of torpedoed INAZUMA.

23-25 May:
Escorted tanker convoy from Tawitawi to Davao.

10 June:
Desdiv 6 deactivated; assigned directly to Combined Fleet.

19-20 June: Battle of the Philippine Sea
Escorted 1st Supply Force. Minor damage: in air attacks due to strafing; two dead.

28 June-2 July:
Escorted tanker convoy from Guimarras to Manila.

7 July:
Out of Manila to assist torpedoed TAMANAMI, but unable to locate.

10-17 July:
Escorted HAYASUI from Manila to Kure.

17-27 July:
While at Kure, Type 13 radar installed on mainmast and additional 25mm machine guns added along length of ship.

1-5 August:
Escorted Convoy MO-05 from Moji to Okinawa.

19-25 August:
Escorted Convoy MI-15 from Moji to Takao.

5 September:
Departed Takao, escorting Convoy TAMA-25 to Manila. Heavy damage: on 6 September, while assisting sinking transport EIJI MARU. Both ships probably mined; HIBIKI possibly torpedoed by USS HAKE (SS-256): bow nearly severed; then back to Takao for emergency repairs.

16 November:
Arrived Yokosuka from Formosa, then docked for repairs.

25 January 1945:
Assigned to Desdiv 7, Desron 2, Second Fleet.

26-29 January:
Steamed from Yokosuka to Kure.

19 March:
Weathered air attacks in Hiroshima Bay without damage.

29 March:
Light damage: hit mine near Himejima, then to Kure for repairs.

5 May:
Assigned to Escort Squadron 105, First Escort Fleet.

26 May:
Arrived Maizuru from Kure, then security duty there through end of war.

18 July:
Commander Fukushima relieved by Lieutenant Commander Sonoda Hajime.

5 October 1945:
Removed from Navy List. Later used as repatriation ship.

5 April 1947:
Turned over to Soviet Union; renamed PRITKY. *

Taken directly from: Long Lancers

*Probably incorrect as its stated on the Spanish Wikipedia article on hibiki

Quote:
The possibility arises that the name Pritky could be a confusion with the German destroyer Z14 Friedrich Ihn acquired by the USSR after the war and assigned under the name Prytky . Although in contrast the name Verniy (Верный) can also be directly confused with the destroyer of the same name belonging to the "Brave" Destroyer Project 30 bis built for the Soviet Navy between 1948 and 1953. B eing that the latter continued to remain in service until 1981. From this it could be explained the third change of name of the Hibiki to Dekabrist (Декабрист) in July 1948, this being the year in which the construction of the new destroyer began. would replace it, thus obtaining the name Verniy (Верный) that would have been originally assigned to the Hibiki (if the name Pritky is taken into account as erroneous), it may be that Pritky was only a passing name communicated by the Soviets to the allies, among many other hypotheses.
---
Hibiki's initial weapon layout looked like this
Armament
6 × Type 3 127 mm 50 caliber naval guns (3×2)
up to 22 × Type 96 25 mm AT/AA Guns
up to 10 × 13 mm AA guns
9 × 610 mm (24 in) torpedo tubes
36 × depth charges
Near the end of the war Japan knew that they were losing and seeing as USA was steaming across the ocean towards Japan, they were demilitarizing and dismantling things so when Japan would fall to the Allies they would not be able to re-use the shipyards, ships etc. Which included cutting apart towers, removing part of armour plating etc.
Pictured here is Hibiki post war (dismantled)

When Hibiki was handed over to the USSR as a prize of war, she was given a new name "Verniy"
Initially when the USSR recieved Hibiki they wanted to fit the new armament listed below but since the structure of the Hibiki's barbette's did not match barbettes for the B2-LM turret they thought to equip them with a single 130-mm B-13.
The new armament included:
6 130mm guns
7 25mm guns
4-6 12.7mm guns
6 533mm torpedo tubes
*I cannot confirm that a re-fit actually happened as I am finding difficulty finding more information about the ship after it was handed over to the USSR.
From I can find they didn't swap out the engine or any of those parts so I can probably be assumed that its maneuverability and performance would be similar if not the same to what it was before the re-fit.
While in USSR service Verniy service in the Soviet Pacific Fleet as part of the 5th naval division. She was later renamed "Dekabrist" on July 5th 1948 and retired from active service in 1953. Verniy in between being target practice and being renamed she acted as a barracks.
She was used as target practice in the 1970's and sunk. Hibiki is currently an accessible diving spot near Karamzina Island near Vladivostok

Video may include some other ships since there are a few ships that have sunk in the same area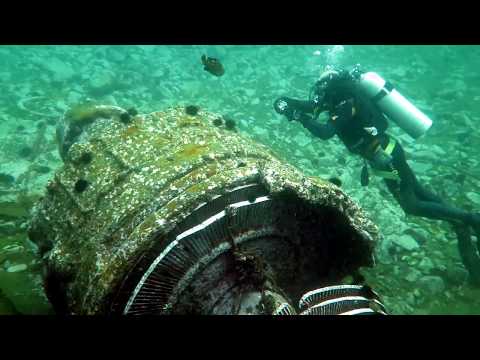 If anybody notices any information I got wrong or any information I missed please let me know.
Source:
https://maritime.org/doc/id/fm30-50-naval/sheet257.htm
https://www.ww2wrecks.com/portfolio/the-ww2-japanese-destroyer-hibiki-shipwreck-off-karamzin-island-in-vladivostok-by-underwater-photographer-aleksei-kondratuk-響/
https://www.wrecksite.eu/wreck.aspx?243017
https://www.wrecksite.eu/wreck.aspx?243016
https://www.wrecksite.eu/wreck.aspx?243015
http://web.archive.org/web/20210420234106/http://shipwrecked.eu/worldwide/asia/dekabrist/dekabrist.html
https://ru.wikipedia.org/wiki/Хибики_(1932)