[Would you like to see this in-game?]
Kisarazu Akane Fuji AH-1S Step III
To note:
This was given out earlier this year (2022) to DMM players as a camouflage for the helicopter.
History:
The Fuji AH-1S is a licensed variant of the Bell AH-1 Cobra attack helicopter that was developed and manufactured by Fuji Heavy Industries in Japan. The AH-1S was used by the Japan Ground Self-Defense Force (JGSDF) for various military operations, including ground-attack, reconnaissance, and anti-tank missions. The AH-1S was equipped with Japanese-made weapons and avionics systems, and was specifically designed to meet the needs of the JGSDF. The AH-1S was operated by the JGSDF from the 1980s to the 2000s, before being gradually retired and replaced by newer aircraft. Despite its age, the AH-1S was widely regarded as a highly effective and capable attack helicopter that was well-suited to Japan's defense needs.
Currently the JSDF still uses AH-1S's however they are working on a replacement for the AH-1S's as well as the AH-64's with they AH-X programme.
Kisarazu Akane:
In 2011 to commemorate the 4th Anti-Tank Helicopter Squadron's 19th Anniversary one of the squadron's AH-1S's was given distinctive markings with the original character Aoi Kisarzu which was created by the squadron personnel. The following year (2012) Illustrator Takashi Fujisawa got onboard with the project and created the designs for Akane Kisarazu.
By 2013 there were a total of 4 sisters:
Kisarazu Akane (eldest, First Lieutenant)
Kisarazu Aoi (second, Second Lieutenant)
Kisarazu Wakana (third, Leading Private)
Kisarazu Yuzu (youngest)
In 2011 the cost for the markings was ¥150,000 but in 2012 the price doubled to over ¥300,000. The money to cover the costs was raised by donations as well as the selling of character merch.
These sisters gained a lot of popularity in person as well online however higher ups in the JSDF were not happy with them and in 2013 the higher ups stopped the project.
Images: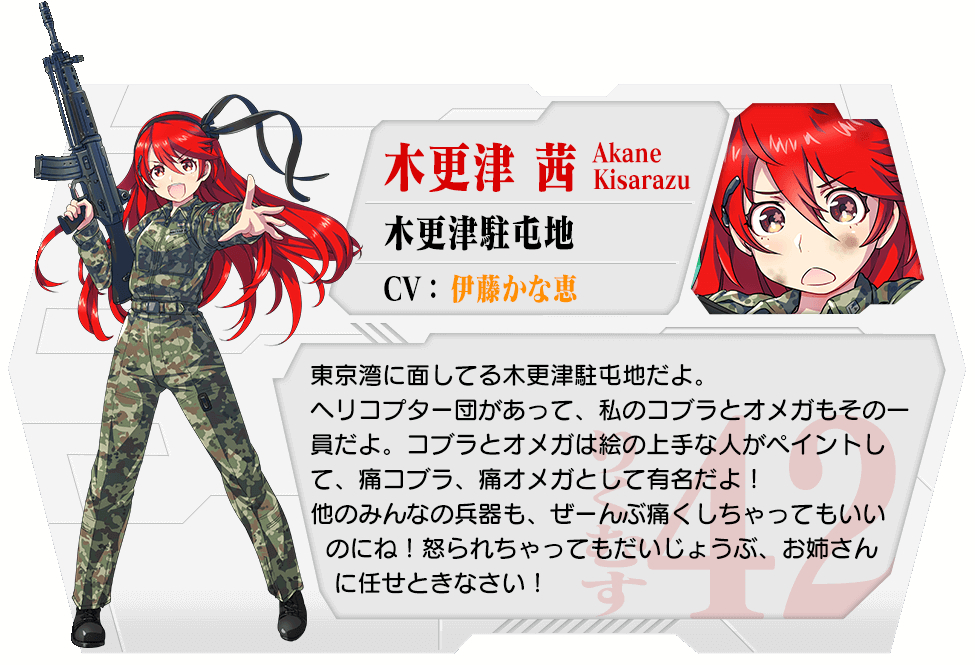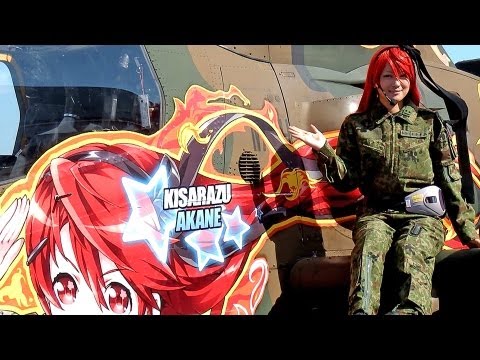 Specs: (Same as those in game used by the AH-1S Kisarazu AH-1S Kisarazu - War Thunder Wiki)
Crew: two (Pilot, Gunner)
Performance:
Maximum speed: 277 km/h
Service ceiling: 3,475m
Armament:
A single 20-mm M197 with 760 rounds
76x Hydra 70 rockets
8x BGM-71C Improved TOW or BGM-71D TOW-2 Missiles
Other:
Engine exhaust infrared suppression
AN/APR-39A radar warning receiver
JAVN-V6 helmet mounted night vision
Sources:
https://www.crunchyroll.com/anime-news/2012/10/14/video-anime-girl-graces-japanese-self-defense-forces-helicopter