[Would you like to see this in-game?]
Yes
Yes, as a premium or event aircraft
No
Which variant would you like to see ?
The CM-170-1
The CM 170-2
Both of them
None of them
CM 170 Fouga Magister
A popular trainer and a CAS aircraft
About this aircraft and its interest in War Thunder
The addition of the Strikemaster in the new update paves the way I think for a whole lot of trainer aircrafts with fighting capabilities. The Fouga Magister is one of them, and one that saw extensive use during the Israeli war as a CAS aircraft. With performances comparable to that of the Strikemaster, it would be a very welcomed addition in the French tech tree.
The Fouga Magister, a successful post war design
The French aircraft industry was severely impacted by WW2, however some remnant of pre-war companies became the foundations upon which France would rebuild their former expertise. Among them, a small company that was mostly known for its gliders : Fouga et Cie. Forming a partnership with a brand new French jet engine company, Turboméca, they built their first civilian jet aircraft, the Cyclone in 1948. It became the blueprint for an trainer aircraft that would soon be called Fouga Magister. After several years of development, the aircraft was finally ready in the mid 1950's. It interested the French Air force, which selected it as the main trainer for its pilot. Quickly becoming a very popular aircraft, it was sold to many countries. NATO took an interest in it and the aircraft was produced outside of France, mainly in Germany, Finland and Israel, the last of which used it extensively as a CAS aircraft during its wars. It also saw action in Africa.
Excluding the naval version, the CM-175 Zéphyr, two main variant were mass produced :
CM 170-1
General Characteristics :
Spoiler

Empty Weight: 2150 kg
Take-off Weight: 3200 kg
Wingspan: 12.15 m
Length: 10.06 m
Height: 2.8m
Wing Area: 17.3 m²
Wing Loading: 124 / 185 kg/m²
Engine: 2 x 400 kgf Turboméca Marboré IIA
Fuel Tank Capacity: 730 L (980L with tip tanks)
Maximum Speed: 715 km/h (@ 9000m)
Climb Rate: 17 m/s
Service Ceiling: 11 000 m

Armament :

Machineguns :

2 x 7.5mm AA NF1 (internal)

4 pylons :

Outboard pylons : 2 x 50 kg bomb or 2 x LR 122 (7x SNEB rocket launcher) or 2 x LR 181 (13 SNEB rocket launcher) or 2 x AS.11 MCLOS AGM

Inboard pylons : 2 x 2 T.10 120mm rocket or 2 x 2 T.900 90mm rocket
CM 170-2
General Characteristics :
Spoiler

Empty Weight: 2450 kg
Loaded Weight: 4080 kg
Wingspan: 11.3 m
Length: 10.21 m
Height: 2.8m
Wing Area: 17.3 m²
Wing Loading: 124 / 185 kg/m²
Engine: 2 x 480 kgf Turboméca Marboré VI
Maximum Speed: 780 km/h (@ 9000m)
Climb Rate: 16.3 m/s
Service Ceiling: 12 000 m

Armament :

Machineguns :

2 x 7.5mm AA NF1 (internal)

2 pylons :

550 kg of ordinance on 2 hardpoints (expected : 2 x 100 lb bomb or 2 x 200 lb bomb or 2 x 500 lb bomb or 4 x HVAR rocket)
PHOTOS AND IMAGES
blueprint :
Spoiler

https://drawingdatabase.com/wp-content/uploads/2015/04/Magister3.gif
https://drawingdatabase.com/wp-content/uploads/2015/04/Magister1.gif
https://drawingdatabase.com/wp-content/uploads/2015/04/Magister2.gif
https://drawingdatabase.com/wp-content/uploads/2015/04/Magister4.gif
Photos :
Airframe :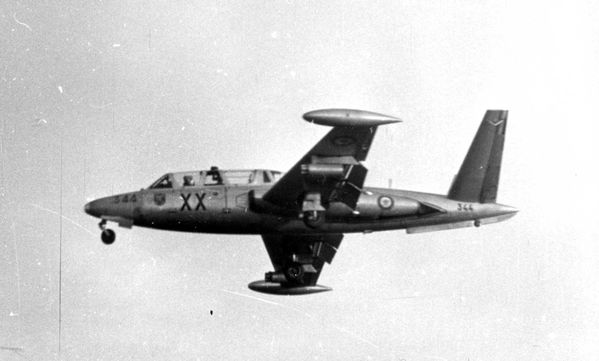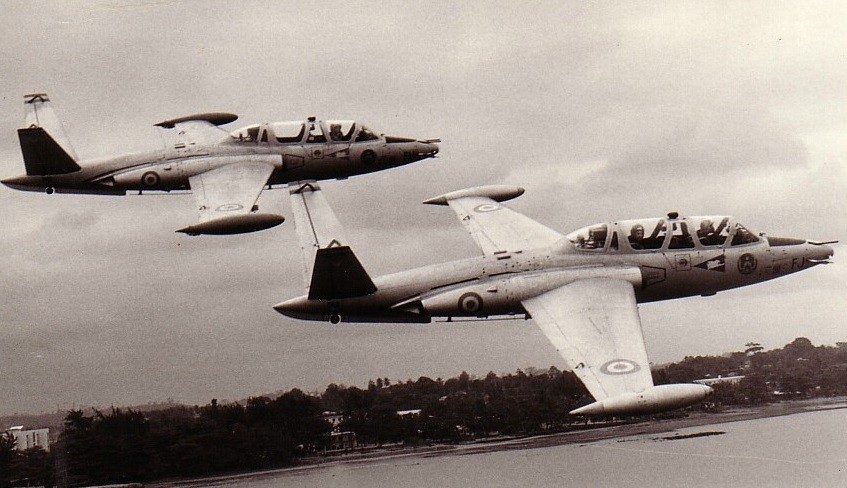 Close up (machineguns and cockpit)
SOURCES :
Spoiler

History
Fouga CM170 Magister | Ailes Anciennes Toulouse
Dans le cockpit du Fouga Magister - Vol en avion de chasse sur Fouga Magister
75 - Fouga CM-170 « Magister » & CM-175 « Zephyr ». - Le blog de Avions de la Guerre d'Algérie
Spot'aero