[Would you like to see this in-game?]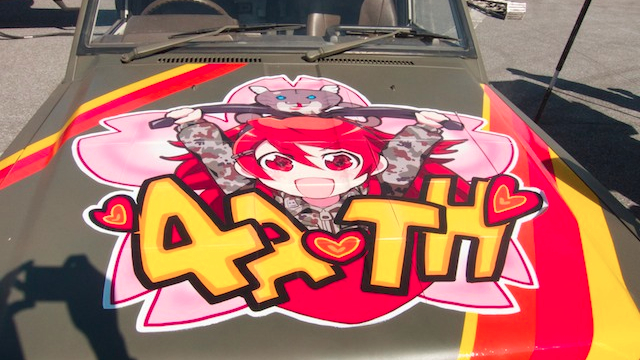 In 2011 to commemorate the 4th Anti-Tank Helicopter Squadron's 19th Anniversary one of the squadron's AH-1S's was given distinctive markings with the original character Aoi Kisarzu which was created by the squadron personnel. Following that year illustrator Takashi Fujisawa got involved and over the next 2 years created the other 3 sisters and their distinctive marks. In 2012 Akane Kisarazu was created and was displayed on a helicopter.
By 2013 there were a total of 4 sisters:
Kisarazu Akane (eldest, First Lieutenant)
Kisarazu Aoi (second, Second Lieutenant)
Kisarazu Wakana (third, Leading Private)
Kisarazu Yuzu (youngest)
In 2011 the cost for the markings was ¥150,000 but in 2012 the price doubled to over ¥300,000. The money to cover the costs was raised by donations as well as the selling of character merch.
These sisters gained a lot of popularity in person as well online however higher ups in the JSDF were not happy with them and in 2013 the higher ups stopped the project.
Sources:
http://chinoken.net/blog/archives/2012/10/20121013_2304.html