[Would you like to see this in-game?]
Disclaimer
:
There is a lot of conflicting information on this vehicle, if there is anything incorrect or misrepresented, please share in the comments and provide a source and I will take care of it.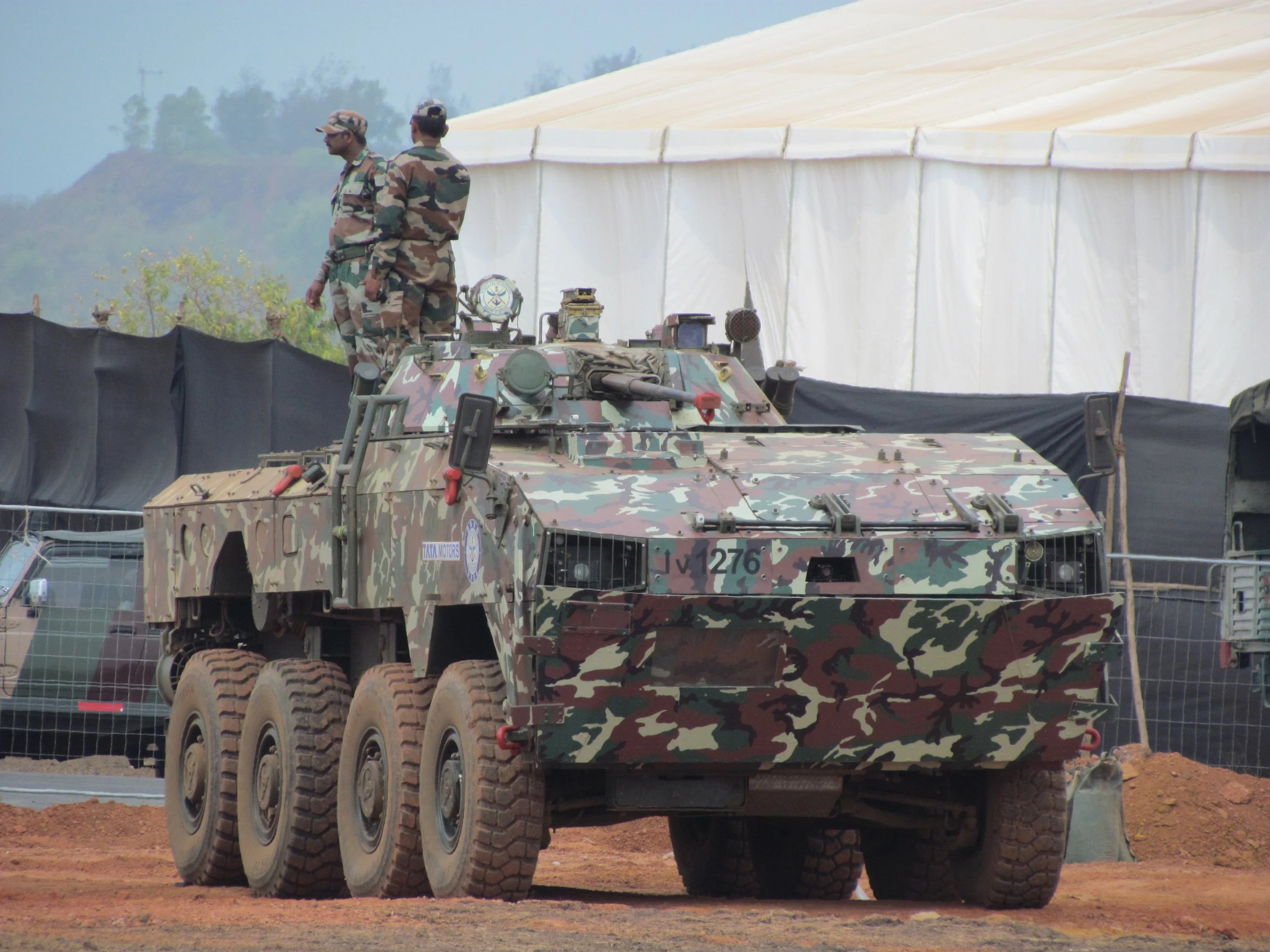 A recent version of the TATA Kestrel armed with the turret of a BMP-2.
Description :

The TATA Kestrel (meaning Bird), commonly referred to the Wheeled Armoured Platform (WhAP) is an 8x8 armored vehicle developed by TATA, DRDO, and Supacat. Development of the TATA Kestrel began in the early 2010's by TATA Advanced Systems Limited to develop a multi-role wheeled platform for the Indian Army with the first vehicle being unveiled at the 2014 DefExpo in New Delhi, India. This platform was designed to incorporate a 30mm cannon, a 105mm cannon, a mortar system, a light RWS to function as an APC, an IFV, and more. Not only that but it emphasizes India's "Make in India" initiative. One prototype was released of the Kestrel utilizing a BMP-2 turret mounted centrally on the roof of the vehicle to allow for the engine compartment to be in the front next to the driver. The BMP-2 turret was utilized due to the large stock of BMP-1 and BMP-2 IFV's in the Indian Army's inventory. The turret features a 2A42 30mm autocannon that can fire a wide variety of munitions such as APDS-T, HEF-I and more. On the top of the turret is a 9P56M launcher capable of firing 9M113M Konkurs-M anti-tank guided missiles or ATGM's. The vehicle is also equipped with a 7.62mm coaxial machine gun and multiple firing ports. For optics, the Gunner and Commander utilize the original BPK-1-42 Passive IR Periscope and TKN-3B Passive IR Periscope but could receive the same optics as the BMP-2 Sarath, which features thermal imagers for the Gunner and Commander. The Driver has access to multiple day periscopes as well as a front and rear camera. For mobility, the Kestrel features a 600hp Cummins ISX 600 Turbocharged Diesel Engine coupled to an automatic transmission that allows for speeds of up to 110km/r. The vehicle is also equipped with a splash plate, bilge pumps, and dual propulsors to allow for amphibious operations. The vehicle is mounted on 8 wheels, utilizing a double-wishbone/hydropneumatic suspension that provides excellent cross country/off-road capabilities. For armor protection, the vehicle is equipped with modular armor that can change its amor protection from STANAG 4569 Level 1 to Level 4. The bottom of the hull was designed in a V-shape to allow for detonating IED's and mines away from the vehicle, increasing crew survivability. The bottom of the hull is rated STANAG 4569 Level 3. This vehicle would see a slight transition from its prototype phase to its production variant, with changes to the armor structure, headlights, and more. This version was adopted by the Indian army in 2017. An updated version of the Kestrel was revealed in 2020 at the DefExpo in Lucknow, India featuring several upgrades over the original with a slightly redesigned hull that changes the front end of the vehicle including a new splash plate, as well as a multiple new sensors and a laser warning receiver to increase crew awareness. The turret was replaced with a Kongsberg MCT-30R featuring a Mk44 30mm autocannon, a 7.62mm machine gun mounted above the barrel, a Javelin launching system on the side of the turret and a Protector M151 equipped with a Javelin launcher for fierce anti-tank capabilities. The MCT-30R Remote Weapon Station is also equipped with the latest 3rd-generation thermal imagers for both the Gunner and Commander, offering advanced capabilities and longer range engagements. This version remains a prototype, showcasing the modularity of the Kestral-platform. The Kestrel, due to its capabilities, is being offered by TATA Motors for international export as well as is expected to fully replace the BMP-1 and BMP-2 in the Indian Army.

Role : Infantry Fighting Vehicle
Origin :
Armament :

Turret: BMP-2 Turret

Primary: 2A42 30mm Autocannon

Cartridge: 30x165

Ammunition:

Possibly FSAPDS-T, status unknown.
3UBR8 APDS-T (BP)
3UBR6 AP-T (BT)
3UOR6 HEF-I (OFZ)
3UOF8 F-T (OT)

Feed System:

Coaxial: PKT-7.62mm Machine Gun
Roof-Mounted:

9P56M Launcher:

Optics:
Guidance: Wire-guided/SALCOS
Elevation: -10/+20 degrees
Rate of Fire (RoF): 3 Missiles/Min
Missile(s):

9M113M Konkurs-M

Warhead: Tandem HEAT
Penetration: 750-800mm behind ERA
Diameter: 135mm
Weight: 14.5kg (Missile only)
Propulsion: Single-Stage Solid Propellant Rocket Motor (and Booster)
Range: 75-4,000m (3,500m Passively)
Speed:

Average: 208m/s
Max: 300m/s

6x 81mm Smoke Grenade Launchers
Optics:

Gunner: BPK-1-42 Passive IR Periscope
Commander: TKN-3B Passive IR Periscope

Turret: Kongsberg MCT-30 Remote Turret

Primary: 30mm Mk. 44 Bushmaster II Automatic Cannon

Ammunition:

Mk 258 APFSDS-T
Mk 238 HEI-T/SD
Mk 264 MPLD-T
Mk 310 HEAB-T (Airburst)

Coaxial: 7.62mm Machine Gun
Roof-Mounted: 12.7mm M151 Protector Remote Weapon Station
Optional:

Anti-tank Guided Missile Launcher:

FGM-184 Javelin Missile

Characteristics:

Mass: 15.9kg (Missile/Tube)
Length:

Missile: 1.1m
Launch Tube: 1.2m

Diameter:

Missile: 127mm
Launch Tube: 142mm

Target Acquisition: Fire and Forget
Guidance: Infrared Homing
Engine: Solid-fuel Rocket
Warhead:

Type: Tandem-charge HEAT
Weight: 8.4kg
Penetration:

750mm through RHA
600mm through RHA w/ ERA

Detonation Mechanism: Impact
Effective Range: 4,750m (from vehicles)
Flight Patterns: Top Attack & Direct-Fire
Max Height: 150m Top Attack/60m Direct-Fire

Optics:

Gunner: Gunner's Thermal Imager (3rd-generation Thermal Imager)
Commander: Commander's Panoramic Thermal Imager (3rd-generation Thermal Imager)

Maneuverability:

Engine: 600hp - Cummins ISX 600 Turbocharged Diesel Engine
Transmission: Automatic Transmission (Gear ratio has not been released.)
Chassis: 8x8

Double-wishbone Suspension

Max Speed: 110km/h (10km/h on water)

Dimensions:

Length: 7.80m
Width: 2.95m
Height: 2.28m
Weight: 25-26t

Crew (3x):

Commander
Gunner
Driver
9x Additional Personnel

Features :

Laser Warning Receiver
Laser Rangefinder
Turret:

Modified BMP-2 Turret
Kongsberg Protector MCT-30R

Amphibious

Splash Plate
2x Propulsors

Armor:

STANAG 4569 Level 1-4 for Ballistic Protection with addon armor.
STANAG 4569 Level 3 for Mine Protection.

General NVD:

In-game :

A wildcard for any future Indian Ground Forces tree, the Kestral comes equipped with a turret from the BMP-2 which we're all to familiar with and a MCT-30R with top-attack engaging Javelin missiles. These turrets are mounted on a fast wheeled platform, playing a similar role to vehicles such as the Italian VBC. One thing to note is with the BMP-2 turret, the depression will be very limited due to the turret being mounted centrally.
Estimated Battle Rating: 9.7 for MCT-30R turret, 8.7 for BMP-2 turret.

Sources:
Imagery
Spoiler

Multiple images of the early Kestrel.

Front camera on the Kestrel.

Images of a more recent model of Kestrel.

Image collage of the Kestrel from TATA Motors.

More images from TATA Motors featuring prototypes, testing, and production vehicles.

Images of the prototype featuring the MCT-30R.

TATA Kestrel: India's Domestic APC To Replace Old Soviet BMPs - YouTube

Video covering the history and modularity of the Kestrel Platform.

Kestrel WhAP Operational In Indian Army - YouTube

Video showcasing the abilities of the Kestrel.