anyone able to find NEOPUP 20mm HEI ammo data, other than weight/muzzle velocity? HE amount and the type of it?
anyway, here is that rounds effects on steel skin targets, barrel, steel skin door and car door. anyone can themself estimate the diameter of those holes. fragment holes indicate that it has quite thick steel shell. its true that the ammo is modern. but those things work still in same basics. steel shell and explosives in it. grade of steel can be less brittle, which gives ability to put more powerful(faster burninng) HE in it. If the steel/iron would be brittle, it would just turn to dust. also the less brittle but hard the steel is, thinner shell walls can be used, and more HE can be put in it(this with heavy artillery pieces at least)
anyway, i took those pictures from that weapons effects, compare the shell size to hole it has made on 1mm steel:
(its 30cm wide.. =15 times to its own caliber)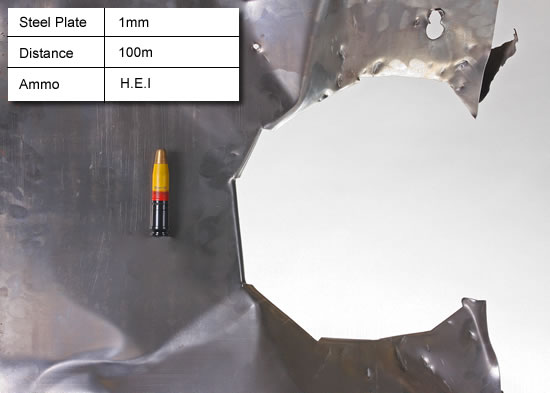 heres same round, shot at 3mm steel, not that HE is not anymore effective against it, just fuze is able to penetrate it(12-15mm hole from it)
i bet it could not penetrate much more with its fuze, but AP ammo of cannons/machineguns would easily. this is where AP ammo starts to shine compared to HE, penetration capablity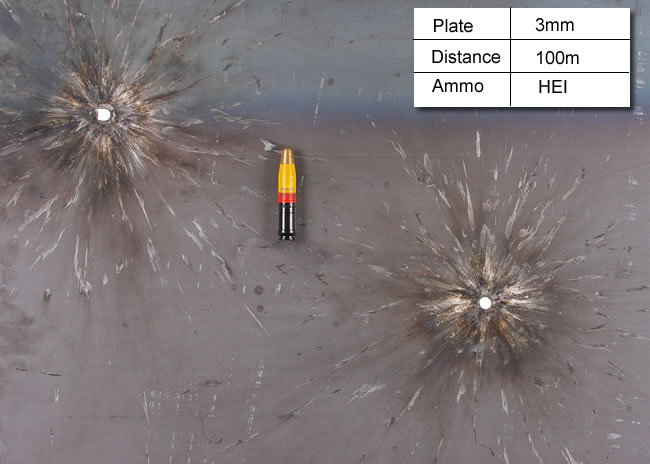 same round against barrer, dunno how thick its steel skin is
car door, front:
same door, rear:
steel door front and back, same ammo again:
smaller hole is 12cm x 20cm in size, IF that is standard US door, which is 91cm wide.
bigger hole is 22cm x 40cm in size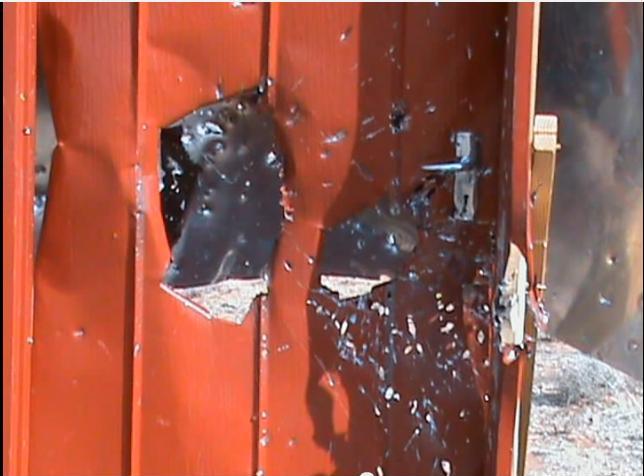 same door from behind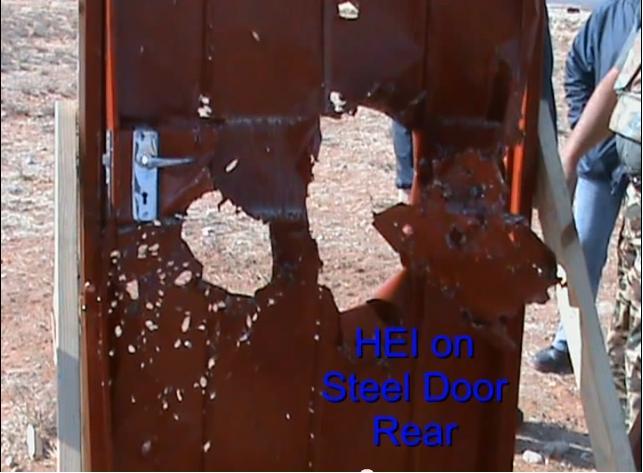 Every hit from that NEOPUP 20mm seems to use impact Fuse, as on every picture above, impact side of target skin is bend inside the target, away from the shooter. That exactly tells us that round explodes outside the target, not inside. you can see rear part of the targets have the edges as well bent away from shooter.
some pictures show good fragmentation damage as well which would not be possible in that size if round would have thin shell.
so i believe that it is designed to have fragmentation effect against soft targets, as its marketing team is comparing it to 40mm Ace tube, which has smaller muzzle velocity, and much worse hitting propability due high arc rounds have compared to 20mm, this due the recoil.
same issue when comparing MK108 vs 20mm cannon but even way smaller muzzle velocities, cos weapon is hand held, not installed in 2,6-3,5ton aircraft which in turn can and could handle the recoil.
here is 20mm Vulcan hits on SUV during training exercise. source said it was training ammo, as people inside that SUV would have gotten more wounded during those hits. happened in 2008.
most propably that ammo had CMPSN A4 HE on it. were not able to find its comparizon against TNT effectivenes.
here is some modern 20mm Ammo data, perhaps made for marketing the ammo for "customers" :) it has some nice pics and info on it. especially delay fuse difference is nice.
it also explains that velocity indeed HAS effect on HE ammo fragments, expecially on thick shell HE, not minengeschoss ammo(cos this has so small/nonexistant fragments).
fragments seems to fly in around 30-40 degree cone to direction of round, at around 500m/1500 feet per second initially(plus some , plus fuse going forwards at velocity it had at impact plus some over 500m/1500feet velocity due explosion. thats the reason why fuze from neopup 20mm was able to penetrate the 3mm steel.
this also tells why there is in most cases, no fragment damage in those pictures above in aircraft hits, cos round have hit it at good angle. there would be fragment holes if it comes at poor angle, so that helps to identify better the angle of impact with HE frag ammo.
velocity of round before it hits and detonates defines the angle which fragments of shell walls take. more slow it hits , more at sides they spread in "ring shape", faster the round more cone shaped the "ring of fragments" is towards to direction of round.
http://www.dtic.mil/...ay/dillard2.pdf
heres some results of artillery ammo, it has really good pictures for how artillery round fragments spread, though it seems that velocity of round in pictures is always the same.
also, artillery shells have MUCH more HE in them sending fragments at way higher speeds around
http://nigelef.tripo.../wt_of_fire.htm
Edited by Stafroty, 25 June 2014 - 01:57 PM.