Lastest update: 22/12/2013 - See pic and notes below for changes
Updated for 1.37 with reprogrammed macro radio calls. There are now more button presses required in 1.37 to send out radio calls so my last profile (133d) would not complete. Working now with new macros!
Changed two of the earlier radio calls and included two very useful new ones:
"Sorry!" - You may not have been able to answer the call for help quickly enough or were caught up in a spot of accidental friendly fire (we've all done it!). You now have a macro to offer a quick apology!
"Return to Base" - You can now quickly announce this to explain why you are leaving the battle or why you can't offer assistance.
Many thanks to everyone who downloaded my last profile which peaked at 1010 downloads!!
Here is my Saitek X-52 Pro profile for anyone that wants to try it, modify it to their own liking or simply use this post as a guide to setting up their own profile. There are 50+ main functions mapped with this profile with at least 25 on the throttle and 25 on the flight stick. They are as follows:
This profile will only work if you are running Saitek SST software and the Pro version of the X-52. This will not work with the standard version of the X-52. The SST profile must be used in conjunction with the included WT configuration file also. You have to use BOTH files for this profile to work correctly.
Key assignments in the SST profile use the key mappings of the config file and these mappings are different to the default keys.

It is important that your Saitek drivers are up to date for both the device and SST. This profile was created and tested with the latest software (as of 18/8/2013) and may not function correctly if your installed software is out of date.

Latest drivers for 32/64bit Windows (as of 18/8/2013):

Windows 32bit (XP/Vista/7/8): Drivers
ftp://ftp.saitek.com/pub/software/full/Saitek_X52Pro_Flight_Controller_7_0_27_13_x86_Drivers.exe

Windows 32bit (XP/Vista/7/8): SST Programming Software
ftp://ftp.saitek.com/pub/software/full/Smart Technology 7_0_27_13 32bit.exe

Windows 64bit (XP/Vista/7/8): Drivers
ftp://ftp.saitek.com/pub/software/full/Saitek_X52Pro_Flight_Controller_7_0_27_13_x64_Drivers.exe

Windows 64bit (XP/Vista/7/8): SST Programming Software
ftp://ftp.saitek.com/pub/software/full/Smart Technology 7_0_27_13 64Bit.exe

If you are using older drivers, my advice would be to uninstall those (and SST) and install the linked latest versions.

For this profile to work correctly you will also need to disable 'Clutch mode' mode in the Saitek control panel. This will allow the 'i' button to function as a standard mappable button. In this profile it is used for wheel brakes and airbrake and not clutch mode. To disable clutch mode, click the X52 SST tray icon and select 'Control Panel'. Click the MFD tab at the top of the control panel and then untick 'Enable Clutch Mode'. The 'i' button can now be mapped in SST and will work with my profile: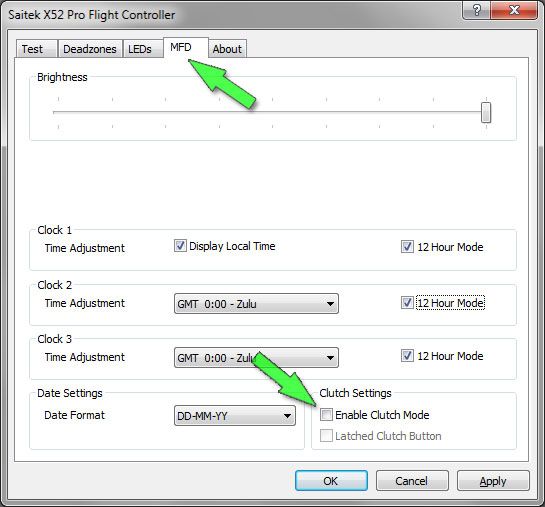 Profile download and use

Contained in the following ZIP file are the Saitek SST profile and the War Thunder controls configuration file.
They must be used in conjunction for the profile to work correctly:


WTconfigSST137a.zip 9.69KB 5048 downloads: Saitek SST profile (22/12/2013) and WT controls configuration files.

The path for the SST profile (War Thunder137a.pr0) in Windows 7 is C:\Users\Public\Documents\SmartTechnology Profiles - After placing the profile in the correct folder, select the profile and load it by clicking the system tray icon for SST (mini throttle icon).

IMPORTANT
Please note, the file location of the SST profile has changed with the driver/SST software update 7.0.2.7.
It was previously C:\Users\Public\Documents\Saitek SD6 Profiles
It is now C:\Users\Public\Documents\SmartTechnology Profiles
Please make sure you place the profile (War Thunder137a.pr0) in this new location.
The SST icon will be highlighted green when a profile is selected and active. To avoid having to load this profile manually each time you start War Thunder, you can set it to load automatically by right-clicking the profile name via the system tray icon and setting it as a Startup Profile. The profile will then load automatically when you plug the X-52 in.

Please note, the profile version number is different in the above example image, but the principal is the same.

Import the War Thunder configuration file (WTconfig137a.blk) by using the import function in the control settings screen of War Thunder. This will put the correct key bindings in place for the SST profile. MAKE sure you backup your own config first in case you need to revert the settings!


The key mappings for War Thunder in this profile are not the defaults. I reset everything for this profile then made a new config from scratch using SST. Some of the functions that I do not use such as padlock/target enemy do not have any key assignments. Anything not used you will have to set yourself. When leaving the control settings screen you will be presented with a notification and list of functions that have not been assigned. You can ignore this notification unless you really need to assign these functions.
Important
Bizarrely, specific Saitek Control Panel settings (deadzone, MFD config, LEDS etc) are unique to each individual USB port, so always try to plug the X-52 into the same USB slot to avoid potential issues.


Additional information and explanations of specific profile functions:
PoV: I use head-tracking (FreeTrack) to look around in the cockpit so all PoV Hat switches are set to use various functions. None control the pilot's view in this profile. For those that do not currently have a head tracking solution, you may wish to refer to this guide (link) on all the available options, from the very cheap to the rather expensive. Alternatively, it is possible to use the virtual mouse ministick on the throttle to look around whilst flying (set Mouse usage to 'View' under Controls/Basic), together with the centre button to recentre the view. Sensitivity of the ministick may need to be adjusted to your liking and instructions on how to do so can be found in a post within this thread (link). With this profile I have it set so that POV 1 can also control menu navigation. The keyboard arrow keys are mapped to POV 1 (in SST) in addition to the functions listed in the guide. You can make a menu selection with trigger stage 1 as described below.
Zoom: This can be controlled with the throttle precision slide axis. I have set it so that it zooms through 30-100% rather than 0-100% on this axis. 30% zoom is roughly the default cockpit FoV. This is the starting point on the slider through to full zoom at 100% (full axis). If you would prefer the much wider FoV as the starting point on the slider with 0-100% zoom, go into the zoom axis in controls/view controls and change what I have set there - multiplier from 0.7 to 1 and correction from 30% to 0%. nb. If the head tracking zoom option is enabled in the game (zoom on 'z' axis of 6DoF) this will override the zoom function of precision slide.
Main Trigger: The mode dial will determine how stages 1 and 2 of the trigger functions in War Thunder:

Mode 1: stage 1 → 2 = machine guns + cannons
Mode 2: stage 1 = cannons only → stage 2 = machine guns + cannons
Mode 3: stage 1 = machine guns only → stage 2 = machine guns + cannons
All Modes: stage 1 + shift button (pinkie) = Rearm aircraft (reload). n.b. In Full Real Battle games, an aircraft will not automatically replenish it's weapons after landing. You will need to to trigger this rearm function for this to happen.
Stage 1 is also mapped to the Enter key (in all modes). This means together with POV 1 you can navigate through the menus and make selections with trigger stage 1.

Trim: The larger rotary dial controls elevator trim and is set to a maximum value of 40%. The smaller rotary dial is for rudder trim and has a maximum value of 20%. Aileron trim is on the right throttle MFD wheel and each notch of the wheel will adjust trim in 1% steps. Clicking the wheel resets aileron trim back to 0%.
Manual Engine Control: Toggles between manual or auto for either greater control of engine characteristics or to have these areas automated (prop pitch, mixture, radiator, magnetos, prop feathering, supercharger). When selecting manual engine control some aircraft will default to auto prop pitch and/or auto radiator. If you wish to control these areas manually you may need to toggle Auto Prop Pitch and Radiator using toggle T5/T6:

Prop pitch: This is controlled with the throttle mouse wheel and each notch of the wheel will adjust pitch in 5% steps. This can be quickly scrolled through or more slowly as desired.
Radiator: The secondary function (shift state) of the throttle mouse wheel will open/close the radiator accordingly in approx. 10% steps.
Mixture: This is controlled with the left throttle MFD wheel. Each notch of the wheel will make adjustments in approx. 10% steps.
Magneto: Magneto selection (0,1,2,1+2) can be adjusted with toggle T3/T4. This can help to restart an engine that has cut out in negative G and is having trouble restarting. It can also help with damaged engines that need to be shut down (multi or single). By cutting electrics (magneto 0), fires can be prevented from occurring and can be more easily extinguished in a dive.
Feather Prop: The mouse button (next to throttle ministick) will enable prop feathering for those aircraft that allow manual control. This will be necessary for an engine that has been shut down to reduce air resistance. The prop blades will turn parallel to the air flow.
Engine Control Toggles: Individual engines can be selected for control with the flight stick toggles as secondary functions (shift button). T1, T2, T3, and T4 will each select an engine for control respectively with T5 selecting all engines (control is toggled on/off). Each aspect of control can be set for each individual engine but only when that engine is actively selected.

Gunner view: When switching to gunner view (if available) the aiming circle is controlled with mouse. Firing is controlled with left mouse button.
Radio Calls: There are 8 automated radio calls accessible via the throttle HAT as primary and secondary functions (shift button to activate secondary messages). These are programmed macros so the radio call will only require one press of the required button to send the call out over comms. They are: Affirmative, Negative, Cover me, Follow me, Sorry, Returning to Base, Thank you and Well done. This function will only work while the chat bar is inactive (no blinking cursor or chat bar visible, press Esc. if the chat bar is active).
Screenshot: The screenshot function is mapped to PoV 1 (up) + shift button (pinkiie). This is handy to capture a spur of the moment screenshot in battle without having to reach for the keyboard.
Axis settings: I have set minimal dead-zone on pitch, roll and yaw. Pitch and roll have no nonlinearity set but yaw has 2.2.
Axis settings in this profile (deadzone, nonlinearity etc.) are set to my own personal preferences so I'd encourage you to adjust them to your own liking if necessary.
Individual axis sensitivity is not included in the configuration file and this will have to be set by you manually.

The following link has more detailed information about axis configuration.
Axis and Sensitivity settings for controllers explained


Other modifications and tweaks:
Something that isn't set by this profile but is set manually with the Saitek Control Panel: L E D S
You can go some way to categorizing some of the buttons that have LEDS. I have red for weapons, amber for engine controls/aerodynamics and green for all other functions.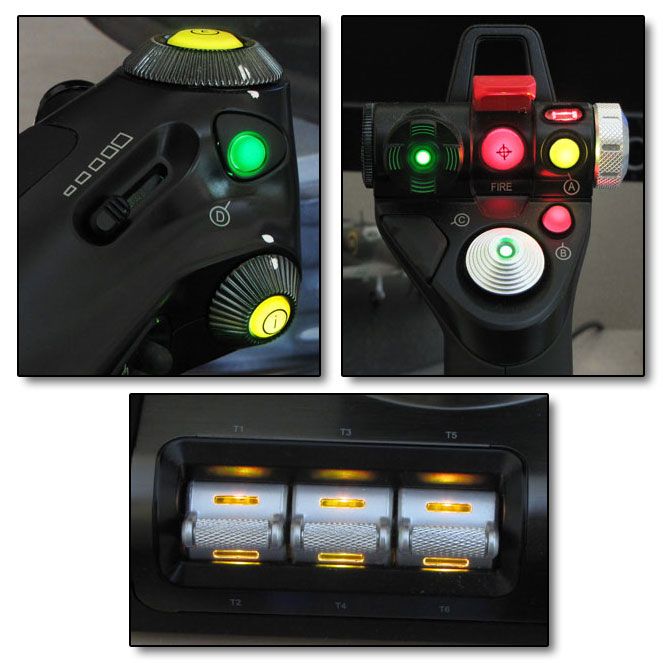 Selecting amber for the throttle LEDS is actually closer to yellow!

You will also notice on the throttle rotary dials that I have some white blobs. This is just a couple of spots of white model aircraft paint. Although you can feel the detents of the dials neutral position when turning them, I think it helps to also have a visual aid, so at quick glance, before flight you can see where the dials are set. In the above image you can see that the dials are already in the neutral position.

LED colour selection in Saitek Control Panel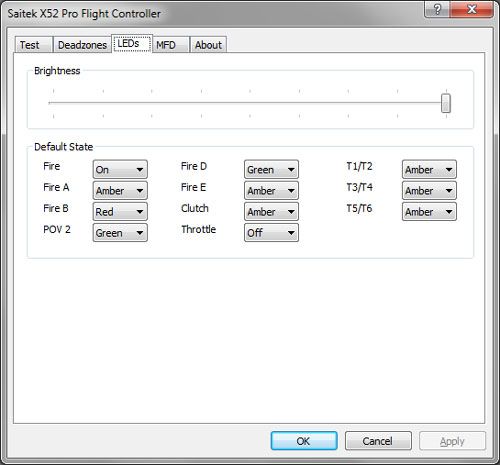 The safety flip with fire button LED can only be switched on or off. It's colour cannot be changed and is red when raised and green when closed. Strangely, only the colour of PoV 2 can be changed and not PoV 1?


Hardware Mods (modifications):

Disclaimer: The following modifications could damage or break your controller and are warranty voiding. You perform these modifications completely at your own risk and I cannot be held responsible for any damage caused.

Magnet Mod
Probably the most popular mod for the X-52 is the magnet mod. The X-52 (Pro and standard) is notorious for having a nonlinear curve on the pitch and roll axes of the flight stick. This modification is really a last resort for those who prefer the stick to be linear. It involves the repositioning of the internal magnets in relation to the Hall sensors.
Some don't mind the nonlinear nature of the stick so it's really down to the individual.
Magnet Mod Information link

Throttle Detent Mod
The throttle you'll notice has some resistance at the lower power end (before you get to 0%) and at the higher power end (before you get to 100%). These are hardware detents to denote throttle Idle and After Burner positions and require a little extra force to push past them. Some don't mind this extra resistance while others find it an irritation. The resistance detents can be removed with a small modification.
Throttle Detent Mod Information

Spring Tension Mod
The X52 Pro may not have the level of spring tension that some might desire when compared to other devices on the market. The standard version of the X52 has it worse with only one spring at the base of the flight stick making it quite loose. There is improvement with the Pro version with it's dual spring but this may still not be enough for some. Although the throttle has a dial to increase or reduce it's tension, unfortunately the flight stick does not have a similar dial and it's tension cannot be altered. For those who have trouble adapting to the tension of a stock controller and require to increase it, the linked mod may help. The video applies to the Standard version of the X52 but it has been confirmed that the mod can also be performed on the Pro version. Be aware though that this mod (on the Pro) could actually increase the tension more than you would like.
Youtube link for X52 Spring Tension Mod

Silicone Grease
Not really a mod but something that will help maintain smooth function of the flight stick.
I'll put it in this section due to the above disclaimer and the dangers of using an inappropriate grease.
If you use the wrong kind of lubricant such as a petroleum based one, it will eventually eat away at the plastic parts. Avoid also water based lubricants as they will cause rusting of the metal parts over time. As far as I know, a non-conductive, silicone based grease is about the best thing to use. If you decide to use something like this, be sure that you are using something that will not cause eventual damage to the plastics or metal. Make absolutely sure!
I use this which I got from Maplins (UK). You can get similar products from bike or car shops.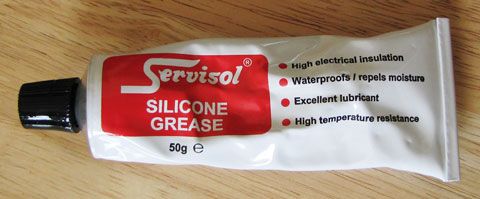 When I first got the X-52, after I had been using it for a few hours I would notice that smaller adjustments around the centre of the flight stick would become a little harder as it would momentarily stick and then jump as it became unstuck. Closer examination revealed a very thin layer of white dust under the metal plate and on the plastic rim at the base of the flight stick. Presumably worn from the plastic rim over time. I could wipe this away but the problem always returned eventually. I'd heard about silicone grease being used on PC flight sticks to keep them smooth so looked into this further.

Now with an application of silicone grease this sticking no longer happens and the flight stick is much smoother. It also reduces the creaking noises to almost nothing now when twisting the stick whereas before it would creak quite loudly. The application lasts for a good 5-6 months before needing to wipe off and reapply.

I apply the grease around the top of the plastic rim which in turn transfers some of it to the underside of the metal plate. It may require another application after moving the stick around a bit. This prevents the sticking I described. I also apply the grease around the base of the spring where it meets the plate and raised centre. Also at the top of the spring with the rod and inner spring where it meets the main body of the flight stick and where the top of the outer spring meets the inside if the plastic. When this works itself in it will reduce the creaking noises of the plastic when you twist and also the metal against metal 'boing' sounds of the spring! This together with smoother control.
Finally, beware the dreaded Sticky Keys of Windows 7. I have the statistics screen mapped to PoV1 (right) in my profile. This uses the keyboard SHIFT button. This can and will cause problems in Windows 7. Press this 5 times during a game and by default in Windows 7 you will be returned to the desktop with a Sticky Keys pop-up message asking you if you want to switch on Sticky Keys! Press 'No' and you will still get the pop-up next time. Very annoying in the middle of a game!

To completely disable this message pop-up you need to go into the Ease of Access Centre in Control Panels and disable (untick) all activation and warnings for Sticky Keys.

More information here: Link



Hope this may be of use to some of you.

Glo
Edited by GloDark7, 25 December 2013 - 08:49 AM.